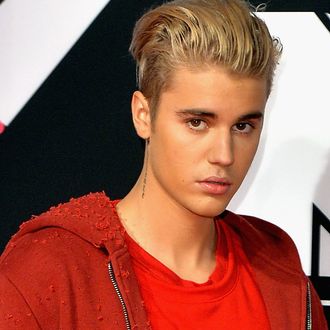 Justin Bieber.
Photo: Anthony Harvey/2015 Getty Images
Justin Bieber's not having the best time promoting Purpose abroad — at least at the moment. The singer cut a show short with a flounce in Oslo, Norway, on Thursday, because of disobedient fans. Attendees captured footage of his early exit, which, according to Billboard, came right after his first song. "I'm trying to wipe the floor," Bieber can be heard saying to clamoring Beliebers, as he tries to mop liquid near the stage's edge. "Guys, never mind, I'm done. I'm not doing the show":
Norweigan talk show Senkveld reportedly invited the Biebs to perform an intimate mini-set there for roughly 950 people. Concertgoers tried to bring him back, but to no avail:
The cancellation came during the same week Bieber walked out of an awkward Spanish interview, in which hosts asked him to help them break the internet. (Kim Kardashian, he is not.) Shortly after the Oslo drama, Bieber uploaded a pointed statement (that was also kind of all-encompassing) to his Instagram:
Sadly it's Been a rough week for me, long days no sleep, while having to be "on" as they would say for cameras fans etc. In no way did I mean to come across mean, but chose to end the show as the people in the front row would not listen. Hopefully people will understand where I am coming from. I don't always handle things the right way but I'm human and I'm working on getting better at responding not reacting. Unfortunately people were affected by this as am I. For the people in the back I am so sorry and for anyone I may have disappointed im sorry. Sorry for wasting the tv people's time I'll be sure to make it up to you next time on tour.
On the bright side, Bieber did endure this newly published puppet interview (and loved it!):
And released a lyric video for "Sorry," which comes at an opportune time:
Here's hoping this trip turns around.