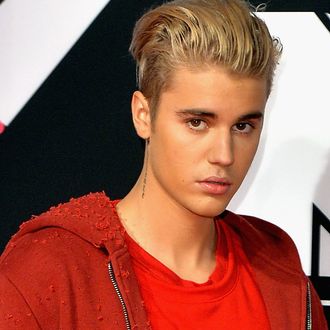 Justin Bieber.
Photo: Anthony Harvey/2015 Getty Images
To ready fans for Purpose, Justin Bieber on Wednesday went on a photo-oriented social-media spree. The singer had teamed up with a slew of graffiti artists to install colorful, creative murals that detailed all his remaining, previously unknown titles, as well as collaborators. The artwork, from the likes of ABSTRK and Kyle Howard, among many others, rolled out today — song by song, picture by picture — and can be found in secret locations across the globe. (Hints of where to find the pieces are labeled atop each upload.) "Find the murals in those cities," Bieber wrote on Instagram. "Thanks to all the artists who stepped up."
Here are all the murals, in order:
And, sans art, here's the track list for Bieber's fourth studio release, which reveals assists from Big Sean, Halsey, and Travi$ Scott, among others:
1. "Mark My Words"
2. "I'll Show You"
3. "What Do You Mean?"
4. "Sorry"
5. "Love Yourself"
6. "Company"
7. "No Pressure," feat. Big Sean
8. "No Sense," feat. Travi$ Scott
9. "The Feeling," feat. Halsey
10. "Life Is Worth Living"
11. "Where Are Ü Now," feat. Jack Ü
12. "Children"
13. "Purpose"
14. "Been You"
15. "Get Used to Me"
16. "We Are," feat. Nas
17. "Trust"
18. "All in It"
19. "What Do You Mean? (Remix)," feat. Ariana Grande
Purpose, out November 13, is available for pre-order here.