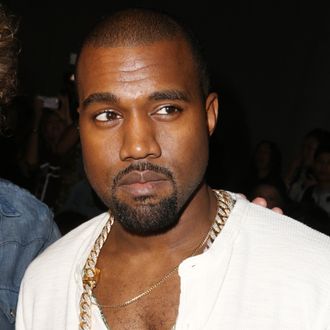 Kanye "American Idol" West.
Photo: Chelsea Lauren/2013 Getty Images
The final season of American Idol airs in January, so Kanye West's evidently thinking what everyone else is: Now's my chance! This year's my year! More or less. To honor the show's last installment, he staged a fake audition for the Idol judges in San Francisco on Saturday, performing his own song "Gold Digger" and bringing his wife, Kim, along for support. Clips and pics began circulating around social media over the weekend because it was surreal — even for the other celebs on hand:
All in all, it was a good weekend for Kanye: Yelled at some people, surprised some others. Rolling Stone notes that the West audition will likely air in full in January, as part of the show's last season. It's unclear if the rapper will actually go to Hollywood, but one can only hope (because why not). Good luck anyway, Yeezy!