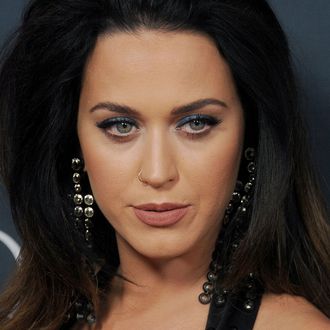 Katy Perry, devil worshipper.
Photo: Gregg DeGuire/WireImage
In what could only be a Los Angeles story, devil worshipper Katy Perry is stuck in a real-estate quagmire with a hotelier and five nuns. The property in question is an eight-acre estate in Los Feliz with a chateau of over 30,000 square feet and an adjoining prayer house that for four decades had housed the California Institute of the Sisters of the Most Holy and Immaculate Heart of the Blessed Virgin Mary (or IHM). In short, the Los Angeles Archbishop Jose H. Gomez is fighting with the remaining five sisters over the sale of the convent. He wants to sell it to pop star Katy Perry, whereas they decided to sell it to restaurateur and hotelier Dana Hollister.
In a feature on the story, Billboard reports that in an effort to woo the nuns, Katy Perry paid them a visit. The sisters were troubled by her comments that she "sold her soul" to the devil, and wanted to see if she would be a good candidate for the place. During the meeting, Perry showed them that she had Jesus tattooed on her left wrist (Perry, you'll remember, started off as a Christian singer), and then sang them the gospel song, "Oh Happy Day" while looking at the lyrics on her iPhone. "She was nice," says Catherine Rose Holzman, one of the sisters. "She told us why she wanted the property and then sang a song and left."
Sister Holzman, however, sees selling the property to Perry as morally problematic. "Katy Perry represents everything we don't believe in," she said. "It would be a sin to sell to her."
The deeper, overarching problem, however, is that it's not clear who actually owns the property. The nuns took care of the property independently for decades, but in 1992, the archdiocese assumed financial responsibility over the convent with permission from the Vatican. When the sisters were being blocked from negotiations, they instead decided to hand the deed over directly to Dana Hollister for $15.5 million so that she could turn it into a boutique hotel. Hollister says her motives are "pure," and she has positioned Perry as the villain "running over a woman and five nuns."
In July, a judge invalidated the sale to Hollister as a "bad deal," although they are letting her hold on to it for now. In November, the court will determine whether it was legal for the archbishop to take control over the convent. Meanwhile, Perry's management simply said, "It is not appropriate for Katy to respond while this is being adjudicated in its proper forum, which is a court of law."