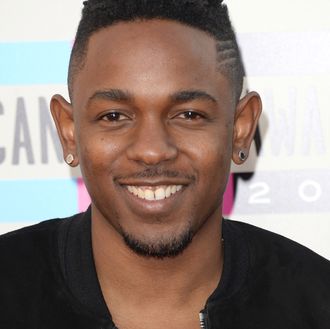 Kendrick Lamar.
Photo: Jason Merritt/2013 Getty Images
Kendrick Lamar memorialized Eazy-E in an as-told-to Paper piece Tuesday, explaining how the late, revolutionary rapper influenced him and left a stamp on music forever. The resounding autobiographical tribute came as part of the magazine's "Nowstalgia" package, which, as it pertains to rap, will feature current icons paying homage to former ones. "I remember when I was five or six years old, waking up one morning and seeing this guy bust through the TV screen," Lamar begins, referencing the N.W.A-assisted "We Want Eazy" single. "I remember looking at that video and just feeling like, 'Man, this dude feels like an action superhero.'" Read on for more highlights from the essay:
On what made Eazy-E special
[H]e was telling a different type of truth, a truth that wasn't heard in music yet. Before [N.W.A], rap was fun — you had your battles and whatnot, but this time around, when it came to what Eazy wanted to do, being a visionary, he had the idea of speaking the honest truth, and I think it really resonated with a lot of people.
On what Eazy and N.W.A taught him

Somebody told me this early on: "You're nothing without your own backyard." … I always kept that in the back of my mind and I think that's exactly what N.W.A did, and that's why they said they want to make music for the community first, because to have that home love is like nothing else.

On Eazy's legacy
He's 100% influenced me in terms of really being not only honest with myself, but honest about where I come from and being proud of where I come from … You don't even have to be a gangsta rapper, but the fact that you can be able to talk about your community and some of its harsh realities, that comes from none other than Eazy-E, period.
You can read the whole piece, and scope out more of Paper's "Nowstalgia" package, here.