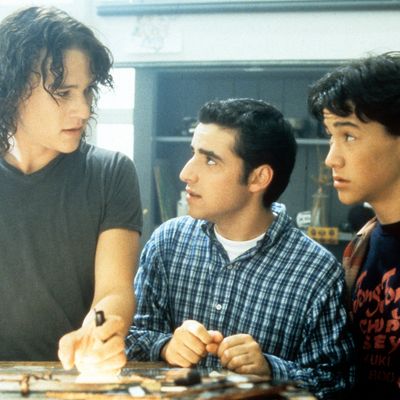 Heath Ledger, David Krumholtz, and Joseph Gordon-Levitt standing at table in a scene from the film '10 Things I Hate About You', 1999. (Photo by Buena Vista/Getty Images
Photo: Buena Vista/Getty Images
David Krumholtz can currently be seen in the comedy Gigi Does It, which airs Mondays on IFC. Well, we use "seen" loosely, as Krumholtz puts on pounds of makeup and prosthetics to play the charmingly abrasive bubbe Gigi. But most still remember Krumholtz from when they first saw him, over 15 years ago, as a cast member of the seminal teen comedy 10 Things I Hate About You. It's a film known for being the first big break of a bunch of actors who would go on to major success. But, as Krumholtz tells it, it's where he met actors who would go on to be lifelong friends. Below is a story Krumholtz wrote about filming the movie that changed his life, professionally and personally.
Ever since its release in the spring of 1999, 10 Things I Hate About You has reverberated with a wide range of audiences. The film about headstrong, lovelorn, at-odds sisters, mired in an all-too-typical high-school caste system, has spoken to the inherent vulnerability of being in love for the very first time; a rite of passage that so many of us stumble through in and around our teenage years. Its themes of individuality and its exploration of the clunky machinations of romance were certainly the film's backbone, but the film's charm and groundedness flower as a result of the undeniable chemistry of its cast, a talented and prophetic group of next-generation, highly successful adult actors that I found myself a part of in what somehow seems like a lifetime ago.
Written by Karen McCullah Lutz and Kirsten Smith and directed by Gil Junger, 10 Things became a passion project for all involved. We all met in Tacoma, Washington, the film's setting, and quickly became friends. On the very first night, the cast (some as young as 17) congregated at our hotel's restaurant for an inaugural kickoff dinner. By night's end, it was clear that this would be a transformative experience for all of us. I had only made a few films by that point, and often found myself working with older actors, not ones of my generation. This was a chance to work with my peers and, and as only kismet would allow, I found myself getting along famously with my castmates.
Still, for the first week or so of filming, we were missing a key component: our lead actor. We had only heard stories from the producers about the disarming charisma of a handsome Aussie from Perth with an infectious smile, who was busy completing his work on an Australian TV series called Roar. By the end of week one, we had all established such strong friendships that we worried about how someone named Heath could possibly manage to find his place in our inner circle. This was a concern that was remedied a few days later, when he arrived and we found yet another comrade in sensibility. The group, with Heath, only got stronger.
Work was fun, and after work we were inseparable. We laughed, we partied, we rapped. Joseph Gordon-Levitt turned me on to Phish, and I turned him on to Wu-Tang. Gabrielle Union had us in stitches, Julia Stiles brought her own brand of Soho-bred artistic intellectualism (at only 17, mind you), Larisa Oleynik's laughter filled the room, and we marveled at the tonedness of Andrew Keegan's muscles (a great sport!).
But it was Heath — a natural storyteller, and always reliable for a cheesy joke — who transfixed us. Before I knew it, the cast was experiencing what I've since found to be all too rare: a unified chemistry throughout the ensemble, without a single bad apple in the bunch. The experience was communal, it sang like a well-tuned chorus both onscreen and off-, and we all agreed that we were having the best summer of our lives.
I suspect that it's that beautiful coalition of actors that audiences respond to most when watching 10 Things I Hate About You. This mutual respect and affection is why audiences indelibly link the film with independence and true romance. I was lucky to be there, I was lucky to be with that cast, and I was extremely lucky to have made friends with a normal, everyday guy named Heath, whose enthusiasm and talent were boundless, who shined in every single frame of film. Who can ever forget Heath Ledger singing "You're Just Too Good to Be True" with the backing of a high-school marching band in the film's glorious climax? I certainly can't.