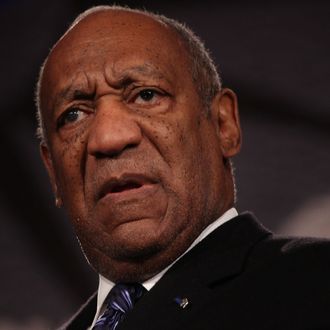 Bill Cosby.
Photo: Spencer Platt/2011 Getty Images
After receiving the results of the LAPD's latest investigation into Bill Cosby, L.A. County prosecutors are now assessing whether they should criminally charge the embattled comedian, according to the L.A. Times. The review involves Cosby's alleged incident with Vegas model Chloe Goins, who claimed Cosby drugged her, licked her toes, and assaulted her when she was a teen visiting the Playboy Mansion.
Details from the investigation have not been released; however, "It is under review by the Sex Crimes division," the D.A.'s office told Deadline. "We don't talk about time, we don't talk about deadlines." Although the D.A. has already declined one Cosby case because it was too far past the statute of limitations, Goins's accusations show promise for Cosby's opponents because they are some of the most recent, as they date back only to 2008. (The Times points out that even if they don't lead to any charges, an investigated catalog of accusations can still help authorities and others build a pattern of behavior against Cosby for a potential future case.) 
For his part, Cosby has declined he was at the Playboy Mansion when Goins was there, and Deadline notes that the LAPD was "given detailed information to show that Cosby wasn't in LA," but on the East Coast. The D.A. update comes not even a day after three women stepped forward to levy more sex-assault allegations. Next up: Cosby is due for another deposition on October 9.