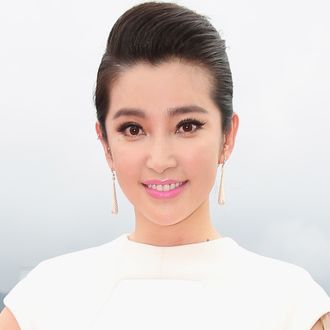 Li Bingbing.
Photo: Callaghan Walsh/2014 Getty Images
Comic maestro Stan Lee is prepping to unveil his first new Chinese female superhero for the big screen, as THR reports actress Li Bingbing has signed on for a movie titled Realm. Plot and logistical details about the film, its heroine, and any relation to Marvel are unavailable at the moment, but the character is based on one of Lee's original ideas. "What a kick it has been to create our first Chinese female superhero, and an empowering one at that," he said in a statement. "It has been such a fun experience bringing to life an international woman character, and the ability to do so has been different from anything we've ever done!"
Realm, according to reports, will be a joint project between Stan Lee Global Entertainment and China's Fundamental Films. (Stan Lee Global Entertainment was formed in 2014 as an international entity to develop more of Lee's original ideas, just like Realm.) Aside from starring, Bingbing will also help produce Realm, along with Gill Champion and Gregory Ouanhon. You'll probably recognize the Chinese actress from Transformers: Age of Extinction and Resident Evil: Retribution, or, on the international side, The Forbidden Kingdom and most recently, Zhong Kui: Snow Girl and the Dark Crystal. Predators scribe Alex Litvak will write the movie's script, which will hopefully include a totally cool, totally not-fatal cameo for Stan the Man and lots more badassery for Bingbing. (Also, maybe no Gray Chaser, or, well, any of these for that matter.) Excelsior!