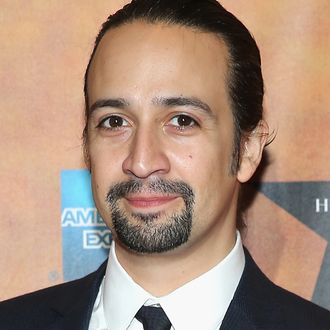 Lin-Manuel Miranda.
Photo: Neilson Barnard/2015 Getty Images
We're all kicking ourselves for not seeing Broadway's latest darling, Hamilton, while it was still in previews at the Public Theater — since the move, tickets are almost impossible to get. But last night at the New Yorker Festival, Lin-Manuel Miranda, writer and star of the hit show, offered a glimmer of hope: Fear not, Broadway nerds, they are filming Hamilton! "You-couldn't-make-it-up filmmakers have been coming to the show," Miranda said. "I have talked to producers about filming this cast before this cast moves on." He said they will definitely film the production before June, but the team is still undecided about what the format will look like. Fingers crossed for a telecast à la MTV's Legally Blonde. While you dream about that, scope out more highlights from his talk below:

On the upcoming Hamilton mixtape
One of the songs the project will feature is a rap battle about slavery, which was cut in workshops. "It was enormously cathartic to write because you write about these men who wrote great things but also had this other legacy lived within the system that was horrible and abusive. It just brought the show to a screeching halt."
On receiving his MacArthur Foundation "Genius Grant"
Miranda, who also wrote and starred in the Tony-winning production of In the Heights, in September received the MacArthur Foundation's "Genius Grant" for his work. But after leaving his cable provider three weeks earlier (Time Warner for Fios, if you were wondering), he thought that multiple calls from the foundation to notify him was the cable company.
"I see a strange phone number with a strange area code and I went, 'voice mail.' It's Time Warner — they want me back. It comes again, voice mail. Third time, I'm ready for a fight. The person on the other end of the phone says, 'Hi, is this Lin-Manuel Miranda?' 'Yeah! What's this about?' I was ready to go into, 'It's done. It's here. Your box freezes every half hour — 30 arguments ready. And she goes, 'This is Christina from the MacArthur Foundation. You're one of our MacArthur Fellows.' 'Oh, I thought you were cable!' I was very relieved it wasn't cable."
On dream collabs
In the Q&A portion of the talk, an audience member asked Miranda if he would collaborate with fellow Latino writer Junot Díaz, who also spoke at the festival last weekend. He seemed game. "If Junot ever had an idea for a musical, I hope he would come to me first," he said. "But, barring that, I'm not going to tell him how to write his books. He's a genius." How about it? The Brief Wondrous Life of Oscar Wao: The Musical — err, okay, maybe not that.
Update: After his panel, Miranda sent out some tweets to clarify that he merely wants to film Hamilton.