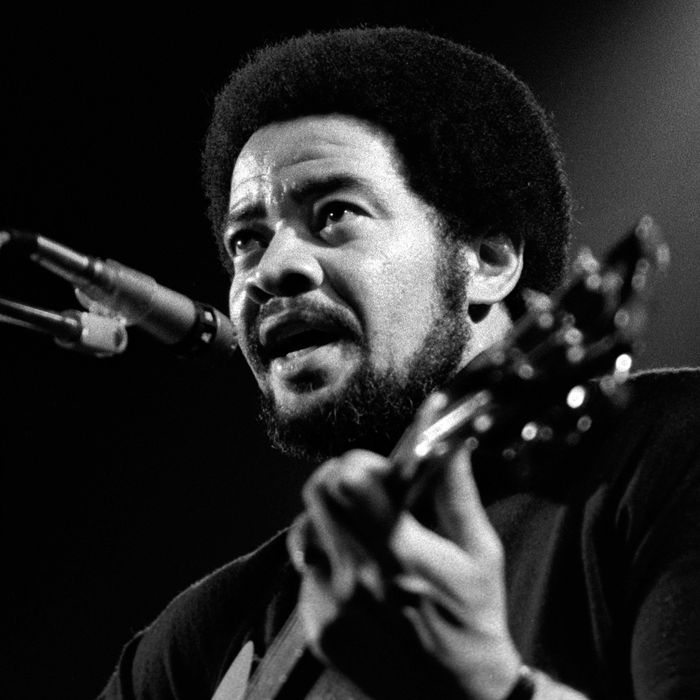 Bill Withers.
Photo: Fin Costello/Getty Images
I recently finished reading Isabel Wilkerson's The Warmth of Other Suns, a masterful tome about the post-Reconstruction years between 1910 and 1970 when African-Americans living in the South migrated north and west to escape the cruelty of Jim Crow. The Great Migration is considered to be one of the most understudied migratory phenomenons in history, but Wilkerson, through painstaking research and magnetic prose, paints an impressively vivid picture of African-American life by using the stories and voices of the characters who experienced it firsthand. To my mind, the most profound aspect of Warmth is that by the end of its 622 pages, you don't walk away thinking you've read an epic story specifically about black life, you walk away thinking you've read an epic story about American life, full stop. This is why the book is a work of genius, and this can also be said of the music of Bill Withers.  

A son of the Great Migration, the reclusive 70-year-old singer-songwriter from Slab Fork, West Virginia, is in the midst of one of the most auspicious years of his career. Withers was inducted into the Rock and Roll Hall of Fame by his friend and fellow soul singer Stevie Wonder in April. Last night, thousands of people trekked out in the rain to pay tribute to him at a sold-out show at Carnegie Hall. Withers hasn't released an album since 1985's Watching You Watching Me, and yet he seems to be experiencing one of those rare career revivals that many septuagenarians only dream of, in part because his music has a way of bringing people of all stripes together.
That was certainly the case last night during "Lean on Him: A Tribute to Bill Withers," the Carnegie Hall concert in which Dr. John, Michael McDonald, Ed Sheeran, Amos Lee, and more re-created the unforgettable baritone's 1973 live album recorded in the same storied venue. The crowd was diverse and causally dressed, if somewhat miffed that one of the evening's main attractions — a much-anticipated rendition of Withers's 1972 standout "Use Me" by neo-soul icon D'Angelo — had been canceled because of health reasons. But bandleader Greg Phillinganes, fresh off the heels of Stevie Wonder's Songs in the Key of Life tour, was undeterred, projecting enthusiasm into the crowd and giving each artist a high five and a hug as they entered and exited the stage.
The two most memorable performances of the night were delivered by Ledisi and Aloe Blacc. An R&B vocalist with extraordinary range, Ledisi transformed Withers's classic "is you cheatin'" song, "Who Is He (And What Is He to You)," from the 1972 sophomore album Still Bill, into a cautionary tale as told by an unimpeachable diva. Blacc sang "Hope She'll Be Happier," a lovesick ballad that left both myself and the 50-something white guy sitting next to me wiping tears from our eyes. "The music speaks for itself," Blacc told the crowd.

Letting his music speak for itself is the practice that has come to define Withers's career. In the 2009 documentary Still Bill, he recalls becoming livid when a white A&R man asked him to cover Elvis Presley's "In the Ghetto." The "Blacksperts," as Withers calls them, wanted him to fit in a box, one where black R&B singers were expected to wear gold-lamé suits and play get-down funk to make the kids groove. Withers wanted to play slow acoustic music that would allow him to express, in detail, the bucolic plainspoken charm of growing up on a small, segregated coal-mining camp near a creek in Slab Fork ("Grandma's Hands), the frenetic day-to-day of urban life in a big city during the war-torn 1960s ("I Can't Write Left-Handed"), and how bringing those two worlds together required a great deal of sacrifice ("Lean on Me"). In other words, Withers wanted to make music that was as rich and varied as the lives shared in Wilkerson's book. Music that is definitely American.
Though Withers seems more beloved this year than he has in many —  perhaps since 1972, when "Lean on Me" became the first song to hit No. 1 on the soul singles and Hot 100 charts — last night it was clear that his aversion to the spotlight remains stubbornly intact. During the encore, the entire cast came out to perform "I Wish You Well." Withers, dressed in a simple gray shirt, slacks, and a jacket, joined them. The audience held their breath as he sidled up to the microphone. Would he sing? The band played low as Withers sized up the mic, taunting us by two-stepping to the backbeat as if he were ratcheting up his mojo. Finally, after about a minute, he broke the silence and spoke. "Thank you for coming out," he said. "You helped raise $50,000 for the kids." Withers, who was a stutterer until 28, agreed to do the concert as a benefit for SAY, the Stuttering Association for the Young, for which he is an avid supporter. "The last time I played this joint I only made half that much," he teased. He thanked the audience again, and said it was an honor that young people like Ed Sheeran even know his name (not to mention cover him on late-night). And then he told the audience it was time to go home. He still wasn't going to play the fame game, but he was thankful to be just a little bit more famous.