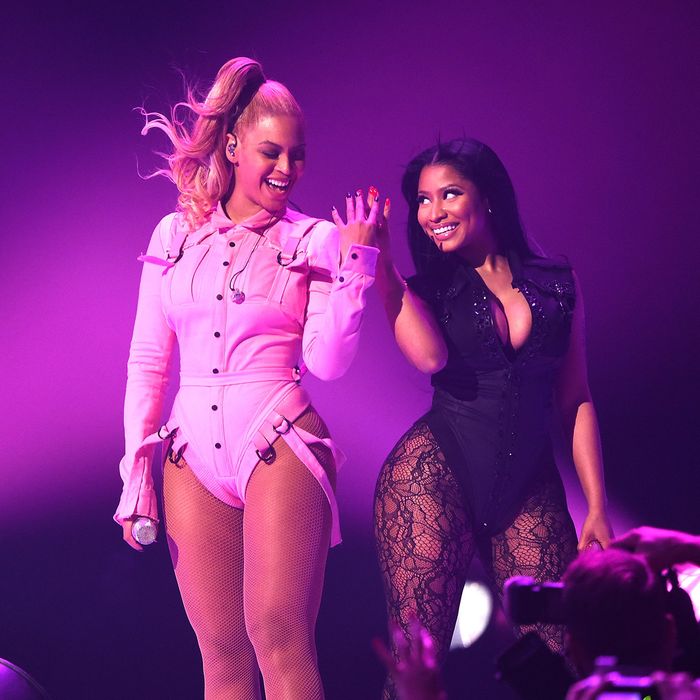 Photo: Jamie McCarthy/Getty Images
It's been a rocky start for Tidal. Back in March, when Jay Z first entered the music-streaming ring, he did it with a stiff, glitzy press conference that brought to the stage a bevy of his famous friends: Nicki Minaj, Rihanna, Madonna, Kanye West, Daft Punk, Jack White, Arcade Fire, and of course, Beyoncé. Except now they were each his business partner. Each member of this exclusive squad handpicked by music's most ambitious entrepreneur was positioned as an "artist owner." But merging art and business in such a branded way looked to many as superficial as the declaration Jay Z had his Founding Artists sign, one by one, after which they posed for a group photo to hang on the boardroom wall before disappearing behind a neon-blue square above their Twitter handle.

Seven months on, Tidal has been caught in a maelstrom of bad press — most loudly on social media, where Jay Z is often criticized for failing to prove Tidal a worthy competitor in the overpopulated streaming wars, and vilified whenever Beyoncé releases a music video exclusively on the service. Last week, when Jay Z testified in court about a "Big Pimpin'" sample he's been sued over, he didn't count Tidal among his many business ventures. "Yeah, yeah. Forgot about that," he laughed, after his lawyer reminded him. The internet mocked him accordingly.

But on Tuesday night at Brooklyn's Barclays Center, Tidal finally had cause to celebrate. Last month, Jay Z announced that the service had finally surpassed 1 million paid subscribers. It's a paltry milestone compared to competitors like Apple Music, which this week boasted 6.5 million paid subscribers among its total 15 million users, now that its free trial ended three weeks ago for those who signed up upon its June launch. Nevertheless, it was reason enough for Jay Z to call in some favors from his board of trustees and trot them out for the livestreamed Tidal X: 1020, an event that felt more like a sprint to the finish than the benefit marathon it claimed to be.
The show saw Jay Z putting some of the company's biggest shareholders — Beyoncé, Nicki Minaj, Usher, Lil Wayne — to work. (Prince, though originally billed as a headliner, failed to show.) They sped through the concert at the breakneck speed of models on the runway at New York Fashion Week; each artist materialized onstage, performed their most recognizable hit, then made a hurried exit. No encores, not much lingering applause, just a hello and a good-bye. In the time it took to identify some of the night's first artists (the early birds were especially unfamiliar with the show's opener, French band Indochine), their set was over. Tidal has never touted artist discovery as a selling point in the way Spotify has tried to, and so it served some of its rising artists (Alessia Cara, Flatbush Zombies, Justine Skye) as light appetizers, along with smaller names like country newcomer Thomas Rhett and J. Cole affiliate Bas. Most were allowed a song apiece, saving room for the main course.
Then came time for a bit of housekeeping: Radio personality Angie Martinez introduced Damian Marley as Tidal's newest artist owner. Later, T.I. (the biggest crowd-pleaser at the halfway mark), brought out the cast of the buzzing YouTube show Money & Violence, confirming rumors that its second season would premiere on Tidal in January. Again, Jay Z kept business and art closely intertwined. With those press releases out of the way, the rest of the night resembled something closer to Summer Jam than Global Citizens Festival.
It was, for all intents and purposes, a hip-hop show. Following Nick Jonas's by-the-book delivery of his latest solo hit, "Levels," the show's special guests were almost exclusively nonwhite for the remainder of the show, starting with Vic Mensa (who is biracial) and ending with Jay Z himself. The crowd, a sea of Swag Surfin' mostly black millennials, mirrored the artists onstage at any given moment during the concert's flashy third act. A hammering shared set from Rick Ross, Meek Mill (whose Drake beef hasn't made him any less of a fan-favorite), DJ Khaled, and French Montana (who paid respect to both the incarcerated Bobby Shmurda and the late Chinx) drove the crowd into a frenzy. That energy carried through a DJ set from Hot 97's Cipha Sounds, a one-two punch from Brooklyn's own Fabolous and Jay Z, and a Lil Wayne cameo. Each act delivered, but none rivaled the show's headlining moment.
Walking into Barclays, many wondered whether Nicki Minaj and Beyoncé would perform their swag-affirming "Feeling Myself" for the first time, having passed on the opportunity when the two both performed at Jay Z's Made in America Festival earlier this summer. "Give us Queen B!!" a fan above my section shrieked when the song's introductory whistle began to play. As Beyoncé's backing track rang through the speakers while Nicki body-rolled onstage, it seemed that moment might not happen. But Beyoncé knows how to make an entrance, and she did it flanked by an army of rump-twisting dancers dressed in pink bondage bodysuits to match her own, which she accessorized with the same blonde high ponytail she famously debuted at this year's Met Ball. The costume choice served a greater purpose, to contrast with the black-clad dancers belonging to Nicki Minaj, who later remixed "Feeling Myself" with "Antidote" by Travi$ Scott (another no-show last night) for a titillating dance battle with Beyoncé — a moment deserving of a thousand GIFs, which the internet has amply provided.
The show could've ended there, with the two queens of pop squashing their play-fight by wiggling their manicured nails in tandem. But there's just something about a high pony that summons Sasha Fierce: Later, performing "Holy Grail" with Jay Z, Beyoncé, now in a black fur cape, writhed around on the floor, whipping her hair directly into the camera broadcasting the livestream. She closed out her two-song cameo with a kiss for Jay Z (whose "Empire State of Mind," sans Alicia Keys, provided the real finale), and left the sold-out crowd awestruck.
As a concert, the night was a textbook spectacle, one that started off shaky but found its footing in its most proven names. But as a charity event, it barely felt like one. "We raised a lot of money, but we're also having a good time," Jay Z mentioned in passing at one point, having previously been vague about where, exactly, the money will be donated. (The New World Foundation was tapped to allocate the proceeds.) Black-and-white videos of Big Sean, Usher, and others rambling about social injustice would play intermittently throughout the night between sets, but fans paid them little mind.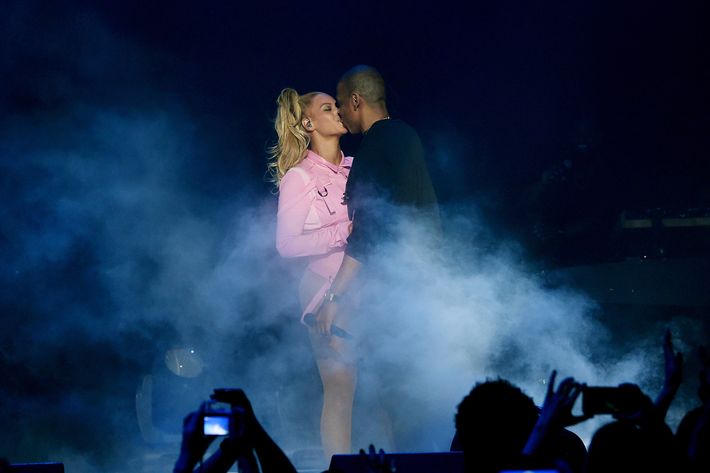 When Usher took the stage to perform his anti-police-brutality protest song with Nas for the first time, it came right after the mid-concert turn-up from Ross and his MMG crew. The shift in tone was jarring — Nas ended the set commanding, "Stop the police murder of black people everywhere" — and for that reason it almost seemed like Black Lives Matter had no place where Black Music Matters. In his closing speech, Jay Z announced this would be the first of many charity events of its kind sponsored by Tidal, indicating that if Hov doesn't get it right the first time (his track record is hit-or-miss), he won't let you forget he tried.