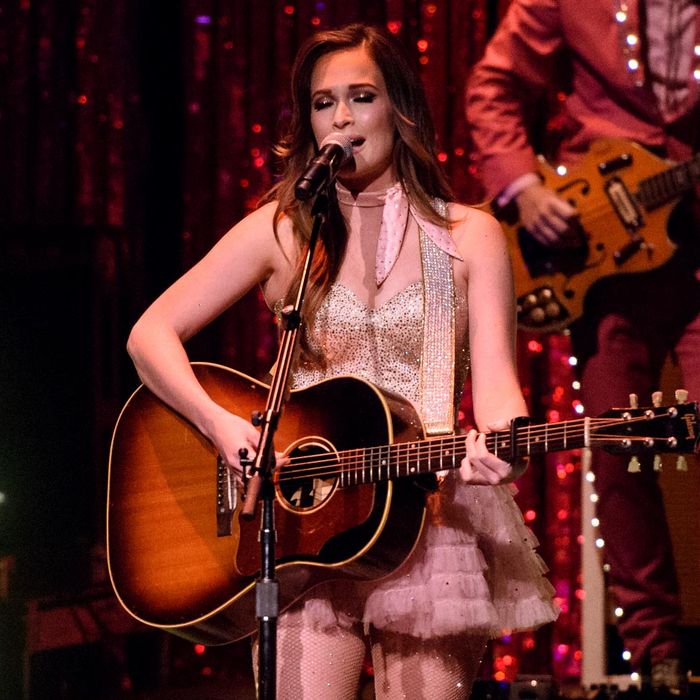 Kacey Musgraves performs live onstage at the Apollo Theater on October 24, 2015 in New York City.
Photo: Matthew Eisman/Getty Images
Last Saturday, at Harlem's cultural temple, the Apollo, a country headliner took the stage for the very first time. Better yet, she sold it out. If it seems hard to believe that it took so long for a country performer to lead a date at the legendary venue, you're not alone — Kacey Musgraves herself was skeptical.
Nevertheless, it's true. Though the Apollo's known in pop culture as a few things — the East Coast epicenter of black music tradition, the ultimate dreamers' stage, formerly the first thing seen after SNL's closing credits — it started out a century ago as a burlesque theater before playing host to hordes of swing, jazz, blues, gospel, soul, and, eventually, hip-hop and comedy greats. In recent decades, the Apollo has shifted its bookings again, welcoming (in addition to who you'd expect) overwhelmingly indie-rock acts like M. Ward and Eels to its stage. It can feel just a little off, seeing a show like that on a stage that fostered such a wealth of seminal black voices, but it's worth putting out of your mind: The Apollo is one of New York's best-sounding venues, on par with, if not better than, Radio City. The fact that no Nashville star had ever eyed its crimson rows surprises me, but I suppose the Grand Ole Opry set aims for maximum seating capacity when they come to New York, one of country music's most underserved markets.
Kacey Musgraves — an all-around talent often perceived as an underdog due to her lack of commercial radio support — was wise not to do the same on the New York stop of her Country & Western Rhinestone Revue, a show that harks back to her genre's old-fashioned, down-home glitz as much as you would imagine given its name alone. Her backing quintet, dubbed the Runner-Ups, wore bolo ties, light-colored cowboy hats, and Pepto-hued suits with twinkle lights sewn right into the seams, in front of a big-sky backdrop and enough metallic streamers to stock three Party City franchises.
Certainly the contradiction behind her tour's aesthetic was not lost on Musgraves. In her opening number on Saturday, the title track off this year's excellent Pageant Material, Musgraves declares there's no way you'll ever see her in a swimsuit on a stage, but even she couldn't resist pointing out that she was wearing little more than a sequined one-piece, a pink petticoat cover-up, and the sparkliest pantyhose presently available. The line Musgraves continues to walk — by openly embracing small-town southern ideals at every turn while advocating for gay rights and marijuana legalization, by covering The Fader while still being in demand at country awards shows, and by generally coming across like a country-music buddha who also isn't afraid to speak up when something sticks in her craw — is a big part of what makes her career interesting to watch. This parade of juxtapositions is also what makes her current live show — as much a vintage country homage as it is a campy wink at those traditions — a compelling one.
Over the course of 90 minutes, Musgraves covers "No Scrubs" like the girl who surprises you at karaoke and "These Boots Are Made for Walking" like the girl who takes you home; tells stories in her just-unfiltered-enough-to-be-fun way ("I wonder where that bitch is now," she wonders of a rival's show mom who called her a "dime-store cowgirl" in her early pageant days); and really makes the warmest parts of her pedal-steel-drenched, Gram-and-Emmylou-loving sound shine. At worst, you can say the show's middle portion is overly stacked with one country platitude after another (the function of repetitive themes across her songs as much as it is set-list pacing), but that's pretty minor in the context of how much Musgraves and her band get right. She receives a lot of credit for nailing her country credentials — she's the type that CMA bookers think of when Loretta Lynn needs a hip, young duet partner; she undoubtedly trades tree emoji with Willie Nelson — but that aspect of her music can feel a little underwhelming in its consistency on record. Her live show, which culminates in a full-band a cappella version of "Happy Trails," is where that influence draws you in and convinces you that Kacey Musgraves may be almost as good as the pop-country haters want her to be. From landmark singles like "Follow Your Arrow" (off her 2013 breakthrough Same Trailer Different Park) to its spiritual heir "Somebody to Love" (a months-old album cut, mind you), plaid-clad fans sing along to nearly every word and heavily police the talkers in the room.
A couple years ago, when Kacey Musgraves was still a favorite new discovery of the genre-blind, her performance style charmed but did not captivate a room. That, however, was not the case when her boots became the first to clomp across the Apollo's storied stage.