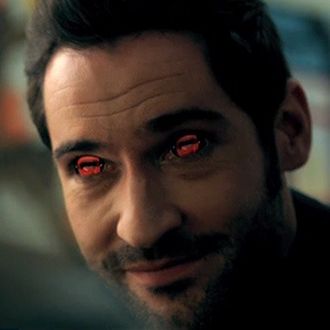 At New York Comic Con last night, one of the shows clearly on everybody's minds — judging, at least, by the cosplay choices — was CBS' Supergirl. But by the end of the evening, another show had made an impression at the Javits Center's main stage: the lesser-known FOX title Lucifer. Drawing frequent fits of laughter and plaudits (so much so that long bits of dialogue were often rendered inaudible), Lucifer's pilot not only impressed with its dark and smartly crafted narrative, but it also captivated with its beautiful L.A. cinematography and rock-heavy soundtrack (what's up, Black Keys?). As one nearby seat-mate put it at show's end: "Well, nothing's going to beat that! Goodnight, everybody."
For the uninitiated, the devilishly handsome Lucifer Morningstar (played here by Tom Ellis) was originally created by Neil Gaiman for Vertigo's Sandman series. The long-reigning Lord of Hell years later received a spin-off series of his own, in which he becomes bored with the banalities of his satanic world and escapes to L.A. for a hedonistic life, devoid of responsibility. The TV version of the story deviates from this somewhat, but the original spirit shines through:
1. British Lucifer (Ellis) becomes a consultant with the LAPD, where he teams up with homicide detective Chloe Dancer (Lauren German). Lucifer's main power is that he can tap into people's minds to get them to reveal their secrets and sins, which proves exceedingly useful to the LAPD. His dynamic with Dancer is best described as early-season Castle mixed with the "supernatural" absurdity of Psych, with additional black comedic undertones à la Black Books. "I'm not a Jedi," Lucifer quips to Dancer, upon one of their initial interactions, before telling her daughter, Tootsi, she has "a hooker's name."
2. Dancer, who has no comic equivalent, starred in a series of questionable "girly" films before becoming a detective and abandoning her acting career, including one called Hot Tub High School. This backstory was revealed early on, much to the amusement of the audience.

3. Like the comic books, Lucifer owns a bar called Lux, but instead of a piano bar it's a popular nightclub (although his piano-playing skills are alluded to in one scene). His ally and confidant Maze, who had lots of face-time in the books, serves as the club's seductive bartender.

4. Many people are clearly unenthused about Lucifer's sudden disappearance from Hell, including Amenadiel (D.B. Woodside), who was featured in the series. Every time he visits L.A. to chastise Lucifer for leaving, time becomes slow motion, and Lucifer becomes extra feisty. "I've been watching you," Amendiel says in one scene. "Perv!" Lucifer replies.
The series premieres early next year on Fox.