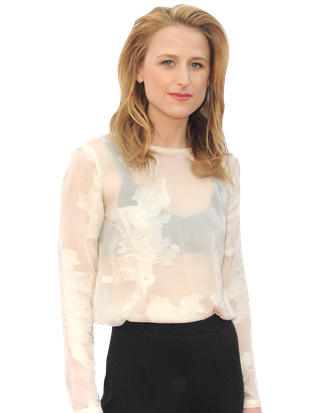 This article contains spoilers for the "The Threshold" episode of Manhattan.
Mamie Gummer joined the cast of WGN America's acclaimed World War II atomic-bomb drama Manhattan this week, and she started with a bang. Or, more accurately, a blow. As Nora, a WAC/Russian spy, she engaged in a dangerous liaison, performing oral sex — discreetly covered by a jacket — on turncoat U.S. scientist Jim Meeks (Christopher Denham) before introducing herself as his new … er, handler. She spoke with Vulture about her simulated sex scene, her '40s-friendly facial features, and, yes, her mom, Meryl Streep.
Had you seen Manhattan before you signed on for season two?
I had. I didn't watch it when it first aired. I don't remember when I started watching it, but once I did, I couldn't stop. I was filming something, and I was stuck in my trailer, just watching it nonstop. I couldn't turn it off.
What did you like about it?
I loved the performances, and I felt genuinely transported to another time and place. It's smartly written, and challenging without being obtuse or lording that over anyone. It felt unlike anything else on TV.
What did you know about the character when you joined up?
I knew I was a spy, but that's about all I knew — and all I know, still. They have kept me in the dark. I know that I haven't died yet. I guess that's a spoiler. But other than still being alive, I don't really know anything about her past.
Is that frustrating for you?
It's different. I learned a lot from it, especially in terms of trusting producers and directors. I'm in what I understand to be very capable hands in terms of the writing and the people who are in charge of these things. By force of will, I chose to do what they told me and trust that I would be protected.
Did you have any concern about simulating a sex act in your first episode?
I actually didn't. I don't know what that says. I was just sort of like, "Oh, well, this is new — whatever."
Your character seems to be a true believer, as opposed to Meeks, who has a personal motive for sharing secrets since the U.S. military killed his friend.
It was a much more idealistic time. Convictions were easier to hold because people didn't know better. We didn't have the same access to information that we do now. Nora learns a lot from her experience with Meeks, and it's harder to hold up those principles the more that she knows and the shadier things get.
Do you mind when people ask you about being Meryl Streep's daughter?
Not so much now. I don't get it as much anymore. Also, the last round of press I did was for a movie I was in with her [Ricki and the Flash], so questions about it felt apt and totally fair. I don't read reviews, but a friend of mine who slogged through the reviews for the play I'm doing [Ugly Lies the Bone] noted that very few, if any, made mention of that. If that's true, it's kind of a wonderful thing to relish at this moment.
Do you feel like playing her daughter in Ricki took it off the table, in a way?
Maybe. Wouldn't that be nice? That would be an unintended result. But I totally understand it. I'm not as defensive or as naïve as I was when I was breaking into this business. I know how the show goes. I mean, I don't resent it.
Did you ever consider doing anything other than acting? Your mother was pregnant with you when she won the Oscar for Sophie's Choice, and you appeared in Heartburn with her and Jack Nicholson before you were 2.
There was always the option to do something else, and honestly, there is still. Anything is possible, but this was all I ever really wanted to do.
You're continuing to recur on The Good Wife as passive-aggressive attorney Nancy Crozier. How do you ride the line between being an irritant to Julianna Margulies's Alicia Florrick and not making your character too annoying?
It should be harder than it is. You can be adversarial and annoying and also really endearing when you need to be. That's a skill a lot of women have to practice. I've been doing that character for seven seasons, since the first year of the show. Nancy and I have grown up in tandem. It's kind of sweet.
You were born Mary and nicknamed Mamie after your great-grandmother, but most people associate the moniker with Mamie Eisenhower. With a name like that, were you destined to appear on a World War II–themed show?
Between the name and the nose, I was made for the time. Before plastic surgery and everyone starting to morph into one form, people had more individuality and character. They were more roughly hewn in a way I appreciate.