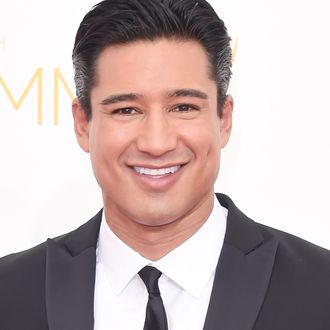 Mario Lopez.
Photo: Jason Merritt/2014 Getty Images
Mario Lopez has signed on for Grease: Live as Vince Fontaine, aka DJ Vince, a.k.a. that smooth-talking guy who creepily flirts with Marty sometimes, Vulture has learned. This means Lopez will get to play the popular host of a radio show who goes kind of crazy and might do weird stuff (depending on which Vince we see). He also will probably get the chance to bust some moves because he has substantial celeb dance experience, thanks to Dancing With the Stars. Get ready for all of that. 
Lopez joins Julianne Hough, Aaron Tveit, Vanessa Hudgens, Keke Palmer, and Carly Rae Jepsen, among others, who are already onboard for Fox's attempt to introduce Grease to another generation. (Likely as a result of his other job becoming way too dangerous.) The star-studded special airs January 31, with Jessie J also notably attached to open the live TV event with her reinterpretation of "Grease (Is the Word)" — which is perfect because she has a knack for reinventing pop-culture treasures.