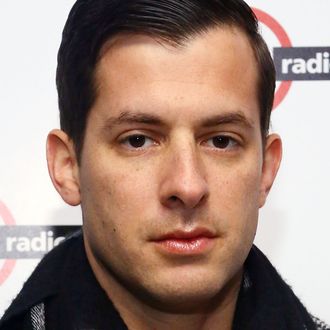 Mark Ronson.
Photo: Astrid Stawiarz/2013 Getty Images
Before his "Uptown Funk" gave it to us for 14 weeks straight, and before he helped Amy Winehouse go "Back to Black," Mark Ronson worked as a humble club DJ in downtown Manhattan. In conversation with John Seabrook at the New Yorker Festival on Saturday at the Gramercy Theater — where Ronson performed six songs from his latest LP Uptown Special, with fellow producer Jeff Bhasker — the music producer described how Diddy, or Puffy, as he was called back then, helped bring him into the mainstream rap scene with encouragement in the form of a $100 tip.
Ronson explained that he cut his teeth spinning at underground venues for such groups as Gang Starr and Brand Nubian; however, the range of celebrity surprisingly changed one night at a club formerly known as El Flamingo, on 21st Street:

Then, all the sudden, people like Puffy and Biggie and Jay Z would be coming to our club and … I just couldn't believe it, you know? Puffy … was like, "Yeah, man," he gave me his number, written down on a piece of paper, and I framed it in this cheap plastic frame above my turntables — because he gave me a $100 tip. He tried to give me $100, and I was like "No, thank you," and he was like, "Just take the $100," and I was like, "No, no, no, it is enough that you put out such good music." He was like, "Take the fucking $100."

So I framed it in this thing, you know, I was probably making like $300 cash at that point. At some point I had to open the frame. I told him this story about 15 years later and I was like, "Aw, man, you came to this party …" And I told the story out in front of maybe ten people, and I was like, "And I had to take the $100 out," and he was like, "Aw, man," and he reaches in and he gives me $100, and I'm thinking, This is a pretty good racket!
Although at this point Ronson was successful enough to live off producing records, he still couldn't keep those Diddy dollars in a frame:
So I got the $100 from Puffy, the new one in my pocket, and the next day I'm going back to London, so I'm in a cab, like, "JFK, please," and we get like halfway there, and I'm like, "Fuck, my wallet," and I realize all I have is the $100 from Puffy, and it was, like, at least the last time it made it almost six months — this one didn't even make it a day.
If you're reading this, Diddy, Ronson once again has an empty frame (i.e., emergency fund) awaiting another $100. SOS.