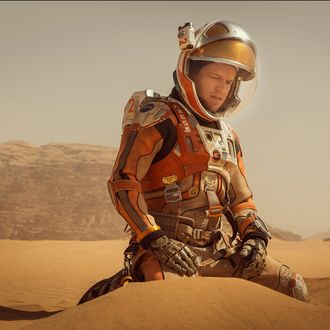 Photo: Aidan Monaghan/Twentieth Century Fox
Matt Damon may have earned the ire of the internet when he again put his very famous foot in his very famous mouth this week, but all those angry headlines didn't deter moviegoers from going to see The Martian, which landed the second-best October opening ever with $55 million, about $700,000 behind Alfonso Cuaron's Gravity. Ridley Scott's space epic has been well-received, the Oscar buzz has already started, and it also opened with $45.2 million internationally. The weekend's other major movie from a major-movie director, Robert Zemeckis's The Walk, didn't do nearly as well, roping in a paltry $240,379 on Wednesday, and making $1.9 million its entire five-day opening. The film stars Joseph Gordon-Levitt as Philippe Petit, the daring Frenchman who strung a metal cable between the Twin Towers in 1974 and walked on the wire, some 110 stories in the sky.
The other big news of the weekend was about Adam Sandler's Hotel Transylvania 2, which has apparently sunk its teeth quite deeply into audiences, as it made another $33 million, only a 33 percent drop from its fantastic debut last week, for a total of $90.5 million domestic. It's Sandler's best-performing film in years. Sicario, the enthralling drug war thriller starring Emily Blunt, jumped from 10th place to third with a $12 million haul, a 603 percent increase from last week. Nancy Meyers's The Intern came in just behind Sicario with $11.6 million, while The Maze Runner: The Scorch Trials added $7.6 million to its disappointing $63.2 million gross. For the second straight week, no movie in the top-10 has a $100 million domestic gross, though Transylvania is close. The highest-charting $100 million-plus film is Mission: Impossible — Rogue Nation, which has now been mentioned in 14 of these box office posts. This weekend it took 16th place and has now made $194 million domestically.