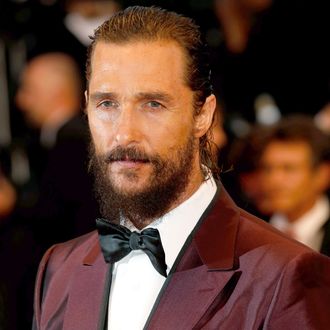 Alright?
Photo: Hubert Boesl/Corbis
Matthew McConaughey isn't too keen on joining the Marvel Cinematic Universe … yet. Variety reports that Marvel and Guardians of the Galaxy 2 director James Gunn wanted him in the film as their new villain, and he turned them down the offer, but as early as May this year, the outlet also reported that McConaughey was very interested in playing a Marvel or DC role; it all just comes down to the script:
"It's very simple for me. I look at the script. Is the opportunity exciting? Is the money that comes with it exciting? Sure. Is it the possibility of going, 'Hey you can get on a train and it can be a franchise and you could do 3, 4, 5, and have a great time as some kind of superhero or anti-hero.' But I would also look at something like that and say, 'Hey, in success that means you are on the train for a while.' Contractually, you're going to return to the character over and over. It's something I asked myself is it something I'd want to return to. Would I be excited to go back and put the shoes on the character again? Going and doing the press tour with that group of people again? I always ask myself those questions again. It starts with the story and character."
But who wouldn't want to go on a press tour with Chris Pratt?