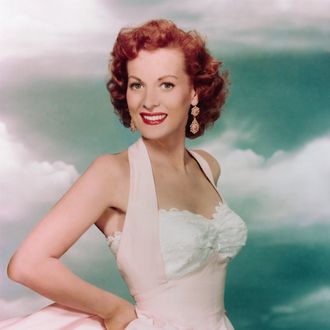 Photo: © Corbis. All Rights Reserved.
Maureen O'Hara was one of the most luminous figures of Hollywood's golden age, when colors popped and carefully lit stars shone brightly in darkened theaters. The way she gleamed onscreen in glorious Technicolor, with that burning-red hair and those emerald eyes, is evocative of that fleeting time in cinema history. But O'Hara, who passed away Saturday at the age of 95, wasn't simply a pretty face on a big screen, despite her title as the Queen of Technicolor. She thrived on challenging roles, portraying women going toe-to-toe with brutes. As film historian David Thomson once explained, she was a woman in a man's world, tempestuous and tenacious, known for throwing her hands on her hips when facing opposition from gruff 'n' tough gunslingers.
The Irish-born actress had a breakout role in Hitchcock's tightly coiled adaptation of Daphne du Maurier's Jamaica Inn (1939), the last film the director made before heading overseas to America. That same year, she portrayed Esmeralda in The Hunchback of Notre Dame, a mammoth production that barely recouped its massive cost but that has accrued a respected reputation in recent years (it greatly inspired Disney's animated film). In 1941, she starred in director John Ford's How Green Was My Valley, the film that notoriously "stole" the Best Picture Oscar from Citizen Kane.
Her collaborations with Ford led to some of her finest work: In Rio Grande (1950), her first of five collaborations with John Wayne, she sustained a tense, almost sultry air of tension with Wayne, at once vitriolic yet somehow, romantic. In The Quiet Man, which O'Hara considered her favorite film, she exuded an air of staunch defiance, refusing to consummate her marriage to Wayne until he fights for their dowry. Wayne, of course, concedes, and fight he does. As she says in the movie, "I'm no woman to be honked at and come a-runnin'!"
O'Hara is one of only two actresses, along with Myrna Loy, to win an honorary Oscar (which she won in 2014) despite never having received any previous nominations. At the end of her acceptance speech, she recited an old Irish saying: "May the road rise to meet you, the wind be always at your back; and may the sun shine warmly upon your face."