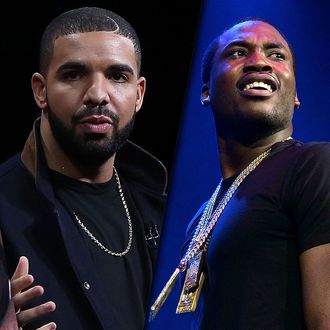 Aubrey and some fans.
Photo: Getty Images
Meek Mill, the rapper Nicki Minaj has some type of involvement with, is at it again. After beefing with Drake and accusing him of hiring ghostwriters and getting golden showers from T.I., Mill seemed to return to his girl's tour world tour. That is, until Wale, Mill's labelmate on Maybach Music Group, spoke to the Breakfast Club on the situation.
"Somebody be off the drink. A little testosterone on tour. You know, you're with your girl. I don't know what's going on, but it's not the right decision. I honestly think he brought a pencil to a gun fight. He ain't even bring a knife — a pencil. A piece of paper. He tried to paper cut him to death. You can't compete with somebody that got them type of relationships. I'm tellin' everybody who thinks that Meek lost this of the strength of losing. It doesn't matter what he made. He could've wrote 'Ether 3.0' and the opinions of the people would've been that their boy from Canada waxed him."
Wale, who loves to talk about things when no one needs his opinion — like bringing up the fairytale of "black on black crime" with regard to Black Lives Matter — clearly got Mill riled up, because Mill traded in his Twitter fingers for Instagram fingers and fired back, calling Wale a "hoe," telling him he's making the call that he's off the label, requesting that Wale jump off a roof, and insinuating that Wale is spreading gossip that Rick Ross's bank account is lean:
In the words of Aubrey Graham, "Oh man. Oh man, oh man. Not again."
Wale is laughing it off for the time being.