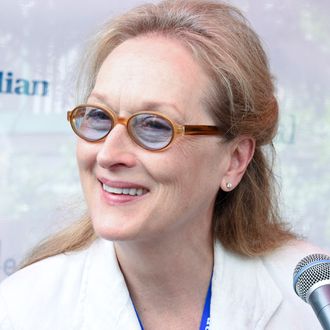 Photo: Vivien Killilea/Getty Images
A week after notable humanist Meryl Streep distanced herself from the word feminist in her Suffragette interview with Time Out London, photos have begun to circulate of the cast wearing T-shirts with a quote from Emmeline Pankhurst, the woman Meryl portrays in the film. The T-shirt, which says, "I'd rather be a rebel than a slave," is meant to inspire women to fight for the right to vote. Here's the complete wording:
"Know that women, once convinced that they are doing what is right, that their rebellion is just, will go on, no matter what the difficulties, no matter what the dangers, so long as there is a woman alive to hold up the flag of rebellion. I would rather be a rebel than a slave."
In a bubble, it's a nice sentiment. But we're not in a bubble. We're in America, and as has been pointed out online, the terms rebel and slave have a much different connotation within the context of our national history. Clearly the intention was to honor Pankhurst's words and not to make an allusion to the Confederate States of America and slavery; but people are going to see what they're going to see, and people saw that connection pretty quickly. It's unfortunate that no one involved with the film or Streep's team did.