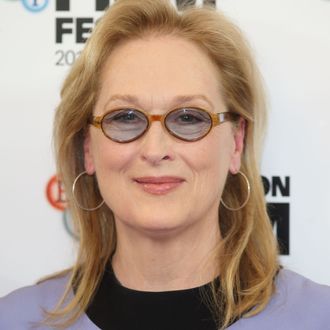 Meryl to the rescue!
Photo: Mike Marsland/WireImages
Meryl Streep will crusade for equal rights in all arenas, including the right to have her films reviewed by as many women as men. Speaking at a BFI London Film Festival press conference to promote Suffragette, she turned her attention to the lack of female critics in America — an issue she takes so seriously, she actually did math! Meryl counted all the writers with reviews on Rotten Tomatoes — "I went deep, deep, deep, deep," she says — and found the numbers alarming. "Of those allowed to rate on the Tomatometer, there are 168 women. And I thought, that's absolutely fantastic," she started. "If there were 168 men, it would be balanced. If there were 268 men, it would unfair but I'd get used to it. If there were 368, 468, 568." Unfortunately, as she learned, that's not even close to being the case: "Actually there are 760 men who weigh in on the Tomatometer." And you thought Meryl Streep would never say the word Tomatometer.
She didn't stop there. Meryl also checked the New York Film Critics Circle (Vulture film critics David Edelstein and Bilge Ebiri are members), and discovered that 37 of its 39 critics are men. (Ed. note: Based on their site, it appears that six of its 31 critics are women.) Her reaction: "The word isn't 'disheartening,' it's 'infuriating.' I submit to you that men and women are not the same. They like different things. Sometimes they like the same things, but their tastes diverge. If the Tomatometer is slided so completely to one set of tastes, that drives box office in the U.S., absolutely."