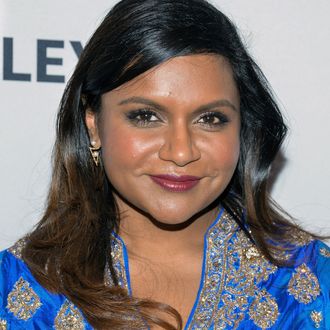 Mindy Kaling.
Photo: Grant Lamos IV/2015 Getty Images
The Mindy Project's titular character is one for the ages — a smart, driven OB-GYN with the lexicon of a preteen, the sex drive of a rabbit, and the swagger (not to mention the wardrobe) of a Kardashian. Since such bravado is tough to pull off, we asked the cast at the show's PaleyFest panel this weekend if they'd ever channeled Mindy IRL.
Xosha Roquemore, who plays the millennial nurse Tamra, is actually a "living, walking Mindy Lahiri," she told us. "I talk in her voice. I say, 'Ex-squeeze me' to people. I say, 'How dare you?' to people. I say, like, horrible things in a really brag-alicious tone. Like: 'Yeah, one time I fucked like ten guys.' That's not true, but just shit like that. As I keep living life, and keep being on the show, I'm like, 'Oh my god, I'm Mindy Lahiri.'" Roquemore insisted she isn't the muse for the character, but the real Mindy — creator-writer-actress-author-pioneer-future galaxy overlord Kaling — suggested otherwise. "I go on [Xosha's] Instagram and her Twitter, find out about her awesome life. She coins a lot of things," Kaling said during the panel. For example, the word bootch.
"I love bootch. It's a little less harsh," Roquemore explained. "Bitch is like misogynistic."
Beth Grant, who plays HR nightmare Beverly, bought her first designer dress thanks to Mindy's influence.
"I'm a hippie!" she said. "I'd always kind of been a rebel. I would always steadfastly wear Ann Taylor to premieres and things. And now I love it! Like this Danish guy that I've got on today, Grundahl, is really unique. All 'cause of Mindy."
The Mindy influence also extends across gender lines: Ike Barinholtz (gentle psychopath Morgan Tookers) told us that, in the spirit of Mindy, he once wore a bright blue shirt, and Ed Weeks (Dr. Jeremy Reed) admitted to being overly confident à la Mindy. "I went on a date recently where, I thought I was being super hilarious, and I looked across the room and I was definitely dying," Weeks said. "No one was laughing. The house was empty. Two drinks minimum, everyone was gone. It was pretty much a failed comedy-club appearance, but it was just me and a girl, so … bad times." No wonder fellow panelists called Weeks a total "gork" (gorgeous dork, obviously).
Chris Messina (Danny Castellano, a.k.a. Mr. Mindy Lahiri) couldn't attend the panel because he was off shooting a film with Ben Affleck. But we'd like to imagine Messina going full Mindy by inappropriately asking Ben about his divorce while eating an entire plate of chili-cheese fries by himself.