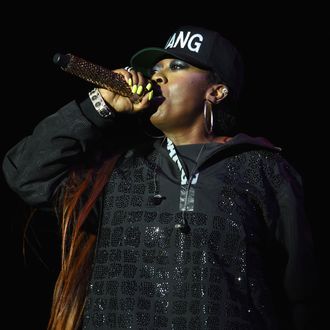 Missy E.
Photo: Andrew H. Walker/2014 Getty Images
To the elation of Missy Elliott fans everywhere (especially her base that loves sports and music), 30 seconds of the rapper's next, long-awaited single aired during a Monday Night Football commercial break. The song, titled "WTF (Where They From)," sounds reminiscent of Under Construction Missy, meaning you might have trouble keeping up with her, but it should still serve as the perfect dance-oriented anthem to pump people up about … well, in this case, where they're from:
ESPN notes it will use the track as part of its early coverage of the NBA, once the upcoming season tips off. Another preview of the song, which also promises to feature Pharrell, airs Wednesday, at 7 p.m. EST, during the network's opening-night basketball doubleheader. And, according to the above promo, the song will be available in full on November 13 (with a music video likely coming soon, too!).