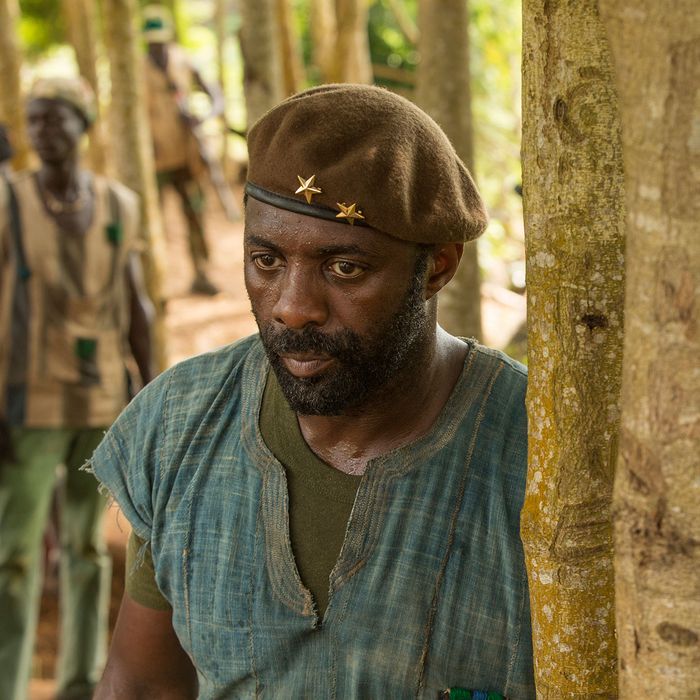 Beasts of No Nation
Photo: Netflix
Nausea-inducing as the massacres of men, women, and children in African nations like the Democratic Republic of Congo are, one fact stands out as even more unfathomably grotesque: A vast number of the murderers are children trained to kill without mercy.
To fill the gulf in our imaginations is Cary Joji Fukunaga's adaptation of Uzodinma Iweala's novel Beasts of No Nation, which is set in an unnamed country that strongly resembles the Congo. Iweala's idea was to make his protagonist-narrator a boy, Agu (Abraham Attah onscreen), who sees his father, brother, and friends executed by government troops on the bizarre pretense that these blameless civilians are rebel combatants. Barely outrunning a fusillade that cuts down the few who haven't been lined up and shot, Agu stumbles into the wilderness, where he's rescued/captured by a lordly rebel commandant called "Commandant" (Idris Elba) and his platoon of children. With them, Agu finds not just a source of protection but a new brother in a boy known as Strika (Emmanuel Nii Adom Quaye) and, most of all, a new father.
Fukunaga's hurtling camera and taut cutting keep Beasts of No Nation only just this side of hallucinatory, and Elba is the kind of titanic actor to kick it to a near-mythic level. Fat cigar in hand, his Commandant has a monstrous authority, like a Fagin so psychotic that he dispatches his orphans to amass souls instead of wallets — and who goes on to rape them when they come back. Agu comes to loathe the Commandant, but he serves him anyway. Where else can he go? Trained by other boys to fight and die for the cause of overthrowing the government ("You must stay quiet, even if a snake is biting you") and taught that the enemy is everywhere — even hiding in the bodies of women and other children — he enters a trance state. Drugs don't change the nature of that trance but intensify it to the point where Agu believes he's butchering not human beings but demons in a dream.
In the novel, the boy participates fully and unreservedly in the carnage, whereas Fukunaga directs his lead actor, Attah, to hold something back, to signal Agu's horror with his wide, liquid eyes. This strikes me as the one failure of nerve in an otherwise uncompromisingly brutal film. Even with Agu only half present — and delusional — for the murder of a mother and her small daughter, the act is among the worst things I've ever seen onscreen. It's the kind of scene that made me question Fukunaga's judgment — I think you have to question the judgment of something that explicit — before deciding that both his aims and his methods are moral. He needed one moment so graphic that it would sear itself into the memory of even an audience that has seen everything.
The last part of the film takes the Commandant to the palatial headquarters of elegant "politicians" who reap the rewards of mass murder — at which point it becomes clear that homicidal maniacs are tremendously useful in the short term but unpalatable on the road to "legitimacy." The Commandant does not go quietly, though, leading to a penultimate sequence that shows what happens when members of a "family" held together by fanatical chants and orgiastic killings turn their anger inward.
Morally urgent to the end, Beasts of No Nation attempts to anticipate post-terrorist lives of boys who have committed unspeakable acts — acts that would be impossible for any human being with a conscience to repress. I'd like to believe that the film's final monologue represents not just the filmmaker's humanist longing but the possibility that a boy could actually awaken from this nightmare with his mind and soul intact. One source of hope: Fukunaga's ability to transform a life of blind, murderous obedience into a work of art, something fathomable.
You can see Beasts of No Nation in theaters or on Netflix.