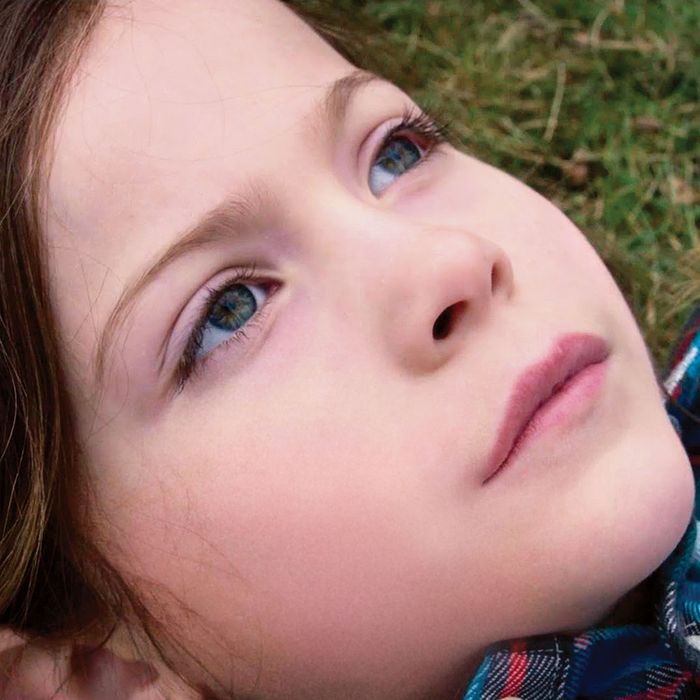 Jacob Tremblay.
Photo: Courtesy of A24
The title of this wrenching film is Room, not to prevent a mix-up with the riot-of-non-sequiturs Z-movie The Room but because its 5-year-old protagonist uses the word as a proper name. Every day, young Jack (Jacob Tremblay) pops out of bed and says, "Good morning, Room," as well as, "Good morning, Lamp/TV/Sink/Brush," a Goodnight Moon–like ritual that transforms an approximately ten-by-ten-foot locked space with a distant skylight into something alive, even nurturing. (The room-womb rhyme seems more apt than ever.) What Jack doesn't understand is that his Ma (Brie Larson) has weaned him on the illusion that their cramped single room with its decrepit furniture — which is all he has ever seen — is the whole world instead of what it is: a prison fashioned by a sexual psychopath who took her seven years earlier.
Room is astonishing: It transmutes a lurid, true-crime situation into a fairy tale in which fairy tales are a source of survival. The Irish-born novelist Emma Donoghue (who also wrote the screenplay) has made a career of reworking such tales, sometimes from an LGBT perspective and generally from a way-outsider's. In this case, she has merged the imprisoned-damsel motif with something modern and sinister — inspired by the sudden jolt experienced by Felix Fritzl, the youngest child of an Austrian woman held captive by her father for 24 years. (There are similarities to the Jaycee Dugard kidnapping and the abductions of three women by Ariel Castro — although the latter story broke in 2013, three years after Room was published.) Donoghue made the 5-year-old the novel's narrator, which results in evocatively strange formulations and an occasional flurry of twee. ("We move Table over to beside Bath so we can sunbathe on Rug right under Skylight where it's extra warm … God's yellow face makes red through my lids.") Though the movie drops most of the narration, the point comes through: By reading to him, telling him stories, and encouraging him to write and draw his own, Ma has kept Jack's mind alive. The hair he has never cut is his "Strong." He is like Samson.
Donoghue has found the perfect complementary collaborator in fellow Hibernian Lenny Abrahamson, whose last film, Frank, was a sad comedy in which the longing for connection is offset by the dread of it. (The title character thrives in a rock-band commune — but only because he hides under a giant fake head.) Abrahamson and his two main actors create a seesaw of love and horror that upends you on all sorts of levels. "Room" is a paradisiacal bubble — a marvel of mother-child intimacy, of mind over matter — astride an abyss, broken by visits from the Devil himself.
Abrahamson keeps the rapes committed by the man Ma calls "Old Nick" (Sean Bridgers) offscreen or viewed hazily through cracks in the wardrobe where the boy is sent to sleep. (The only concession her captor accepts is that he won't see or touch his son.) But we sense the impact of this tyrant in the bruises on Ma; the scarcity of food (he has been unemployed for six months); and acts of pure cruelty, like turning off the power (and heat) for two days after an altercation. Abrahamson knows when to open up the space — creating a sense of expansiveness — and when to bring the camera so close that even this most sacred of relationships chafes. The movie's lone flaw is a score heavy on childlike wonder, meant as a counterpoint to this purgatory but too shimmering and piano-plinky, cuing the audience how to feel.
It would be wrong to reveal the midpoint climax, which didn't literally stop my heart but made me wish I had some nitroglycerin tablets just in case. The second half of Room brings out all the irreconcilables. The world outside has infinite space but limited warmth, including a house (wittily designed by Ethan Tobman) that demonstrates the sibling-closeness of affluence and alienation. Fine as young Tremblay is in his early scenes, it's the later, more difficult ones that show his range, his ability to suggest profound dislocation with every step. And I don't know how to do justice to Brie Larson. Every time you see her, you forget you've seen her before. Her Ma achieves an easy rapport with her son by a force of will, but with everyone else, including herself, her rhythms are off — unyielding, prickly. The clashing emotions she suggests in her final words — two syllables, mouthed but silent — make me shiver even now.
The evil depicted in Room is hard to fathom, but the good is even more mysterious: the capacity of a child — when guarded by a loving parent — to project warmth onto the coldest, most malevolent environment. We've seen survival stories featuring people on desert islands or at sea, but it's the boy sustained by a room that's the most amazing.
*This article appears in the October 19, 2015 issue of New York Magazine.