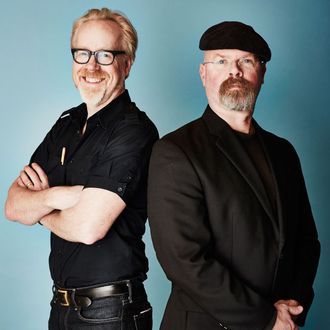 Adam Savage and Jamie Hyneman.
Photo: Maarten de Boer/Getty Images
Just like mankind's belief in falsehood and superstition, MythBusters is going off the air, EW reports. The end comes not from a nationwide shortage of ballistics gel but rather from the show's sagging ratings. MythBusters has aired on Discovery since 2003, and has been the cable channel's longest-running series. According to Variety, the program has run 2,950 experiments on 1,050 different myths, and produced 900 explosions in the process. Hosts Jamie Hyneman and Adam Savage have known about the cancellation since the beginning of the year, and Savage promises EW the show's final episode will "go out with a bang." Poignantly, the two men — who are not friendly outside the show — say the final season will probably be the last time they ever spend time together. After all these years, it's still the human heart that's the greatest mystery of all.