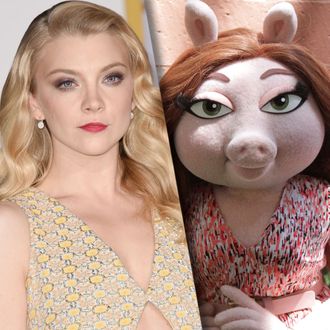 Natalie Dormer and her nemesis, Denise.
Photo: Getty Images, ABC
Game of Thrones actress Natalie Dormer is pretty chill. This is clear from the fact that someone at New York Comic Con asked her about her resemblance to Denise, Kermit's new girlfriend on The Muppets. Denise is a pig. Natalie Dormer was asked about her resemblance to a pig.
Here's real-life footage of Dormer being asked if she thinks she looks like a Muppet pig:

For her part, Dormer used the opportunity to talk about how she was bullied as a young girl for having a "piggy nose."
I was bullied in school. I used to get told I have a piggy nose. I've got big nostrils, my whole family does. It's a burden we bear.
Dormer took the whole moment in stride, however, saying that she even had the Game of Thrones writers add in a pig joke to get back at her former bullies and that she thought, "when I saw that Kermit's got a new girlfriend, and she looks … ah, you know … I was like, maybe I'm a bit responsible for that. So that's the answer to your question. I'd already made the comparison to my nostrils with a pig, so I mean I can't really argue about it."
"Then I found out her name was Denise," Dormer added, while grimacing. "No offense to anyone here named Denise." So make your pig comparisons all you want, but, for the love of God, don't compare her to someone named Denise.