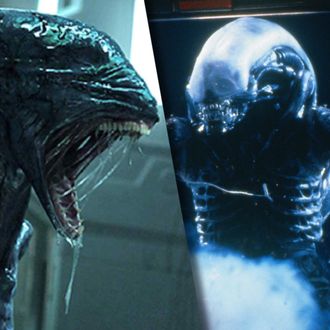 Photo: Twentieth Century Fox
Neill Blomkamp, the writer and director of the highly anticipated fifth film in the Alien franchise (as well as past projects such as District 9, Elysium, and Chappie), confirmed Thursday night on his Twitter account that the planned project has been put on hold indefinitely in favor of Prometheus 2. He will be working on "other things" instead.
This comes as a bit of a surprise, especially since Blomkamp has enjoyed sharing some pretty great Alien-related concept art on his Instagram account in recent months.
Prometheus 2, now titled Alien: Paradise Lost (confusing, huh?), will head into production this coming February, with Michael Fassbender and Noomi Rapace reprising their roles from the original film. Of course, director Ridley Scott, whom industry insiders claim always wanted a Prometheus sequel to take precedence in the franchise's order of succession, will be fronting the project. Interestingly, Deadline reports that a "change of vision" is what prompted Scott to put Blomkamp's film on the back burner. Eager to give Alien a proper prequel, Ridley's Alien: Paradise Lost will address "why and how the beast was invented," and it appears this was a little too close to what Blomkamp wanted to explore himself.