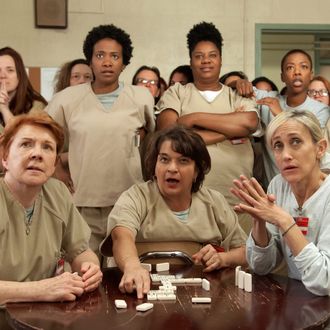 No one is less amused than the ladies of Litchfield.
Photo: JoJo Whilden/Netflix
Alerting all cord-cutters: Netflix is raising its prices again. Bloomberg reports that new customers will now have to pay $9.99 per month to use the streaming service's most popular standard HD plan, which allows for two people to use one subscription simultaneously, beginning today. That's up $1 from its previous $8.99 charge set last year. Existing customers will reportedly have a grace period until October 2016 before the price surge applies to their accounts, too. (Although, Netflix has tweeted to current users that their plan will be "grandfathered in.") The new price will affect users in the U.S., Canada, and Latin America. Prices for Netflix's other streaming plans will reportedly not change, which means you can still stream Orange Is the New Black in non-HD quality on one screen only for $7.99 a month. The announcement comes just a week before Netflix is set to debut its first original film (and Oscar hopeful), Beasts of No Nation.