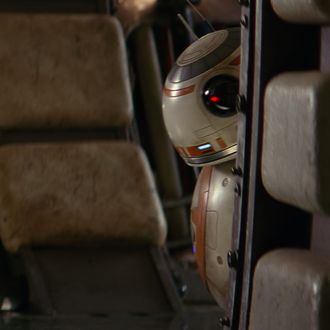 If there's anything the toy-based spoilers proved, it's that information-starved Star Wars fans will take any plot tidbits they can get in the months leading up to The Force Awakens. On Saturday during New York City Comic Con's Disney-LucasFilms publishing panel, writers of a new wave of Star Wars novelizations explained that a photo from Vanity Fair's June spread revealed more about the Star Wars universe than anyone previously realized.
(You'll want to go ahead and open that photo now, since we can't run it and you will be curious to see who we're discussing.)
According to the panel, while all the characters in the photo were originally thought to be nothing more than alien extras, it turns out there's a lot more to them (albeit, still with limited supporting information). The girl in the middle dressed in black? That's Bazine. She's going to get fleshed out in the Delilah Dawson short story "The Perfect Weapon," available November 24. And the guy in the red on the left will be featured in an intergalactic swashbuckling pirate story by veteran Star Wars expanded universe writer Alan Dean Foster called "The Crimson Corsair and the Lost Treasure of Count Dooku." So two new characters. That's huge! Sort of!
Unfortunately, that's all we've got for now. As Foster went on to explain, "I can't tell you a lot, but I can tell you titles." Sometimes, that can be enough. Who knew Count Dooku was a part-time pirate?