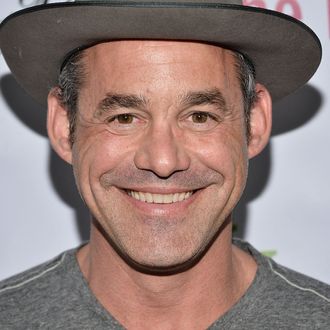 Nicholas Brendon.
Photo: Araya Diaz/2015 Getty Images
Nicholas Brendon, the actor known for roles on Buffy the Vampire Slayer and Criminal Minds, was arrested late Wednesday night in New York for allegedly choking his girlfriend. The news comes a couple months after Brendon walked off the set of Dr. Phil, where he was set to endure a very public rehabilitation for a string of recent run-ins with the law. The drama began again when authorities in Saratoga Springs said they responded to a distress call coming from a "nice family-owned hotel in town for a reported domestic disturbance," according to People.
Brendon's 33-year-old girlfriend told police she met up with the actor to return some of his belongings and leave, but at that point Brendon allegedly threw her phone and snatched her car keys. "It sounds like it went downhill from there," a Saratoga Springs police lieutenant said in a statement, noting an unspecified amount of alcohol was involved. "He allegedly grabbed her by the throat and started choking her."
Brendon, 44, left the hotel before police arrived, but was arrested without incident a few blocks away. He reportedly faces charges for one count of robbery in the third degree, two for criminal mischief, and another for obstruction of breathing; police told media that Brendon's girlfriend did not show any signs of physical injury. The AP notes he was released from jail Thursday after posting a $20,000 bond.