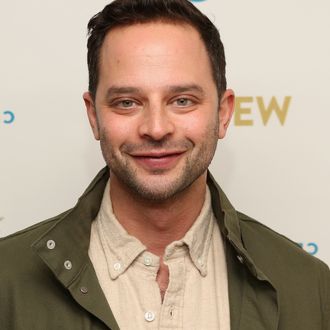 Nick Kroll.
Photo: Jesse Grant/2014 Getty Images
Nick Kroll announced Thursday that he and John Mulaney are working on an Off-Broadway, Oh, Hello–inspired show. The production reunites the comedians' Gil Faizon (Kroll) and George St. Geegland (Mulaney) characters — nonpareil caricatures of Upper West Side senior-citizen wannabe polymaths — for what will likely be a couple hours of their irreverent prankster antics at New York's Cherry Lane Theatre. According to Kroll, Faizon and St. Geegland have penned a very real play of their own and wish to share it. If this all sounds kind of meta and absurd, that's because it is — just like what used to happen with these two on Kroll Show:
To promote the project(s), which run(s) the first twenty days of December, the duo(s) made a hilariously pitch-perfect website to explain everything:
Fresh off the success of their hit prank show "Too Much Tuna," these two Alan Alda–obsessed Upper West Side bachelors are returning to their roots in New York theatre. Having wowed audiences with past theatrical works like "True Upper West" and the "Annie Get Your Gun"–inspired "Bernie Goetz You Gun: A Non Musical Drama," Faizon and St. Geegland are back for a total victory lap and to premiere their new play "We're Us, You're You, Let's Talk." Tickets are a lot of money. Join us, won't you? And say Oh Hello… all over again.

George and Gil have parted ways with a number of numbskull directors but are open to a real doormat if anyone wants to get walked all over. "We're very important artists and this show's relevance to the American theater can't be overstated," said Faizon and St. Geegland. "We are, however, interested in getting a cool sponsor like Dr. Brown's Celray Soda."
If you know anyone, let them know. Also, If you're interested, head here for more details and tickets (be sure to check out their incredible bios, too), and definitely be ready to get Tuna'd.