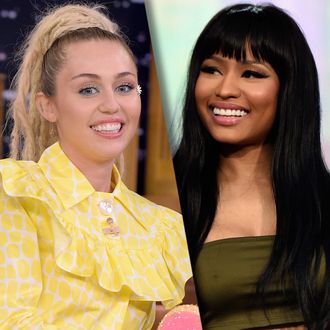 Nicki Minaj's meme-making onstage diss for Miley Cyrus might seem like ages ago — the year in music has moved that fast — but the New York Times (where the feud originated) isn't done asking about it. In the magazine's new interview with Minaj, the pop force speaks on the events that prompted her to go off-script. "'I saw [Cyrus] just looking at me, with her face screwed up, and I thought, What the!," she remembers. Not long after, the words "Miley, what's good?" poured out of her mouth, and a beef was born. But it wasn't entirely a snap judgment on Minaj's part to call Cyrus out. As Minaj tells it, Miley's cultural appropriation and erasure of black women has been a thorn in her side for some time:
"The fact that you feel upset about me speaking on something that affects black women makes me feel like you have some big balls. You're in videos with black men, and you're bringing out black women on your stages, but you don't want to know how black women feel about something that's so important? Come on, you can't want the good without the bad. If you want to enjoy our culture and our lifestyle, bond with us, dance with us, have fun with us, twerk with us, rap with us, then you should also want to know what affects us, what is bothering us, what we feel is unfair to us. You shouldn't not want to know that."
Thankfully, this time, no one's cutting Nicki's mic.