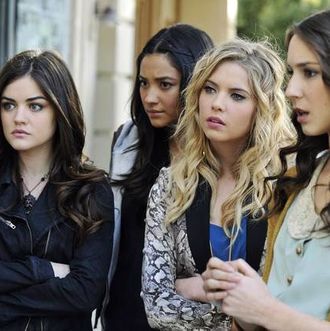 Photo: Eric McCandless/Disney
Despite a controversial Season 6A finale, the Pretty Little Liars panel at New York Comic Con was overflowing with fans seeking any information they could get about their favorite Liars. In that regard, they were largely disappointed — creator I. Marlene King and producers Oliver Goldstick and Joseph Dougherty shared very few secrets during the panel, though we did get a premiere date (January 12). The first four minutes of the Season 6B premiere were also shown — and we now know for sure just how much the show's time jump has changed the titular characters. What was surprising to learn, though, was that some of the most significant changes were requested by the actresses themselves.
"I think they were really ready to play their own ages," King said, when asked about the origins of the time jump. "If you've noticed, they haven't been sitting in their desks for the last few seasons in because it got to the point where it just didn't look right anymore. So I think it was really a group consensus that it was time to really age up the show. I think it's a little edgier and definitely more mature."
 
Now the five-years-older Liars get to reinvent their characters in a variety of ways. If you've wondered about Spencer's bangs, for example, Troian Bellisario was told she could make whatever decision she wanted about her hair. That turned out to be more difficult than she had anticipated.
 
"It was definitely a very funny thing where everybody was like, 'You can do whatever with your hair.' [I thought,] Okay, I don't even know what that would be," Bellisario said. "Like I'm going to go bright red or something? No, it's Spencer. I had to put my dreams of lavender hair away."
 
But larger changes regarding character development were also affected by the actresses. Ashley Benson's demands to be in New York prompted the writers and King to move Hanna's post-time jump storyline to that city, where she now has a job in fashion. "I actually told them 'Hanna has to move to New York and I'm only shooting my scenes in New York,'" Benson stated. "So Season 7 I'll be here, they'll be there. Figure it out Marlene."
(Side note: Despite the show's four-minute teaser seeming to suggest as much, Hanna does not have a baby.)
 
Benson's goals for Hanna also included guest starring roles for Johnny Depp and Amber Heard, both of whom Benson wants Hanna to date. The plans were so enticing to the panel's moderator, BuzzFeed's Jarett Wieselman, that he stated what many fans in the audience would love to see: A New York–based season about Hanna's many adventures in New York City. Ashley, want to try demanding that next?