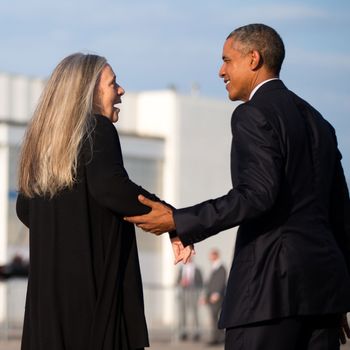 Pulitzer Prize winning Iowa writer Marilynne Robinson says goodbye to President Barack Obama before he boards Air Force One at Des Moines International Airport in Des Moines, Iowa, Monday, Sept. 14, 2015, to fly to Andrews Air Force Base, Md. While in Iowa, Obama gave an interview with Robinson and spoke about college access and affordability at North High School. (AP Photo/Andrew Harnik)
Photo: AP/Andrew Harnik/Corbis
If you're like me, you neurotically check the New York Review of Books website every other day to see if any pieces from the next issue have been published in advance. Last week I found that the cover of the new issue had been put up, advertising the interview between Barack Obama and Marilynne Robinson, which was published online on Monday. I sent the cover to a friend and wrote, "Weird. I hope it's him interviewing her." It turns out I was right!
As an interviewer, Obama has a touch of the old SNL sketch "The Chris Farley Show" about him: "Remember when you wrote Gilead? That was awesome." Yet this is perhaps the closest attention any U.S. president has ever paid to an American novelist. Norman Mailer interviewed many presidents, mostly before they won the election, and when he met John F. Kennedy at the 1960 Democratic National Convention, the future president complimented him on his third novel, The Deer Park, a move Mailer figured was calculated to appeal to his vanity (praising the book he was famous for, The Naked and the Dead, would have been less effective). And Mailer's attempts to write about Bill Clinton were complicated by the fact that his wife, Norris Church, had a fling with Clinton in Arkansas before he was married. But his scrutiny of White House occupants was mostly a one-way affair; he never rated high enough to end up on Nixon's enemies list, or even to be mentioned on Nixon's tapes.
Which means whatever Svengali publicist at FSG arranged the Robinson-Obama Q&A is due for a promotion. Obama seems to have read at least two books of Robinson's Iowa trilogy, Gilead and Home, and some of her new essay collection The Givenness of Things. In both her fiction and her essays, Robinson is one of the master stylists of American English prose living today. She's also an avowed Calvinist, and the relationship of her faith to her fiction is one of the fascinating aspects of her work. (If there is a knock on Robinson, it's that her faith does too much to determine her fiction.) I've always thought her most beautiful book is her first novel, Housekeeping. The Iowa trilogy is in part animated by the return of the prodigal son Jack Boughton, an erstwhile ne'r-do-well now in middle age, and the father of a biracial son in St. Louis he's thinking of bringing home, along with his mother, to his family in Iowa. The trilogy carries the weight of a lot of American history, and how that history has come into the present is what the president is interested in talking about. "I love your books," he says. "Some listeners may not have read your work before, which is good, because hopefully they'll go out and buy your books after this conversation." That "listeners" indicates that the interview was always meant more for the podcast than the page, and it shows. The interview is basically a transcript with some "uhs" and "you knows" edited out.
What do we learn? Well, not a ton. Obama and Robinson agree that most people are good-natured but susceptible to fear of the "sinister other"; that it's good to be optimistic; that Christianity is good for democracy when it encourages neither an "us vs. them" mentality nor a "wishy-washy" liberal one; that Christianity is counterintuitive and it's hard to be a good Christian; that reading and writing are a form of "quirkiness"; that homespun small-town virtues are preferable to "popular culture today, which is all about celebrity and being loud and bragging" (which sounds like a reference to Donald Trump on Obama's part); that politics perverts our view of wonderful American institutions like the education system and the postal service; and that Iowa has always been a terrifically progressive place. At the end of the first part of this two-part series, Obama actually starts to ask Robinson about writing fiction, and she tells him that when she started writing Gilead, "I was in this hotel with a pen and blank paper, and I started writing from this voice. The first sentence in that book is the first sentence that came to my mind. I have no idea how that happens. I was surprised that I was writing from a male point of view. But there he was." A mystery, magic, as usual — in asking about inspiration, the president runs up against the limits every literary interviewer faces. Not to say his stature couldn't be put to good lit-chat use; here's hoping he'll next use his clout to get Thomas Pynchon to go on the record.