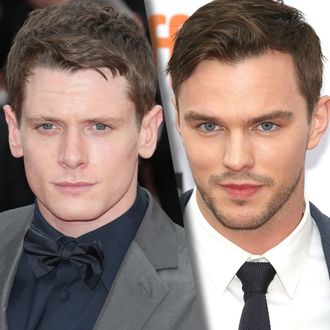 O'Connell and Hoult.
Photo: Getty Images
Forty-eight years after his death, Brian Epstein is having a moment: The same week that Yoko Ono addressed rumors of a romantic relationship between Epstein and John Lennon, along comes news from Deadline that Nicholas Hoult is in talks to play the doomed Beatles manager opposite Jack O'Connell as Lennon in the upcoming biopic A Life in the Day. The project will likely not use any Beatles songs, as the rights to those have already been secured by a competing Epstein biopic, The Fifth Beatle.
Considered "possibly the only honest manager in Britain at the time," Epstein was responsible for shaping the group from raucous Hamburg speed-freaks into a family-friendly mop-topped quartet; he was left adrift after the Beatles stopped touring, and died of a drug overdose in 1967. Rumors have swirled for years that the closeted Epstein had an affair with Lennon; for his part, Lennon told Playboy that, "We did have a pretty intense relationship … It was almost a love affair, but not quite. It was never consummated." Maybe they'll hold hands?