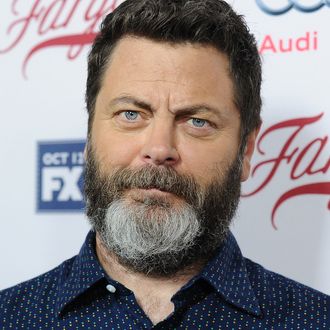 Photo: Jason LaVeris/FilmMagic
Set your DVR, your TiVo, your Apple Watch, your tablet — anything — to November 22: Entertainment Weekly reports that bearded hunk of man-meat Nick Offerman will be guest-starring on Brooklyn Nine-Nine. Offerman will be playing Frederick, an ex-boyfriend of the precinct's highly revered and professorial Captain Holt, and the two will cross paths once again for the show's Thanksgiving episode. Will he be a fellow man in blue? Perhaps a doctor or a nurse — apparently his story line intersects with Detective-Sergeant Terry Jeffords's (Terry Crews) wife giving birth to their third child.
Update: Until tomorrow, enjoy this clip from EW, where he and Captain Holt get into a little lover's quarrel about wooden ducks … and Dave, who was a co-worker and nothing more.