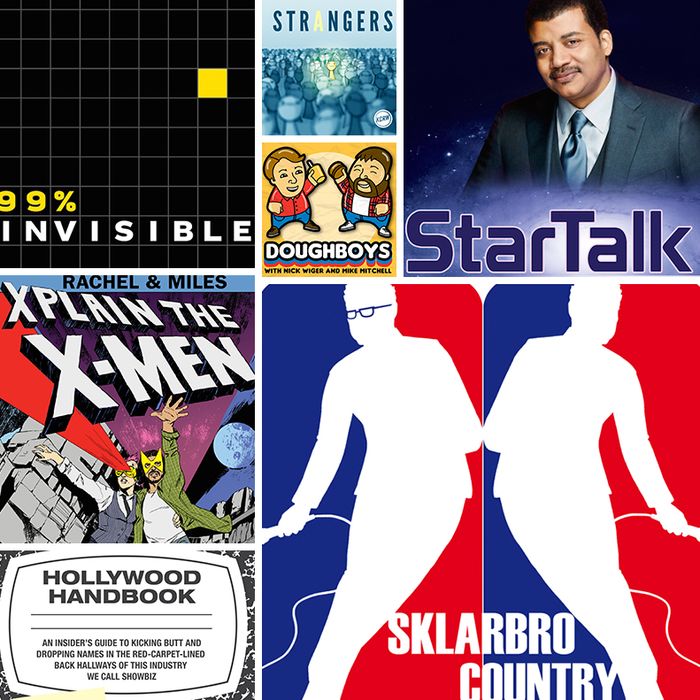 Whether you're an early adopter or finally just getting around to the whole podcast thing, now's a great time to tune in: More than a decade into podcasting's existence, we're in the midst of the medium's second boom. The quality game has been upped, too, thanks in no small part to the popularity of "This American Life" and its spinoff "Serial," which reached larger weekly audiences than some shows on network TV. That's partially why so many of the most popular podcasts — from "Comedy Bang! Bang!" to "WTF With Marc Maron" to "This American Life" and, soon, "Serial" — have become TV shows; of course, that's also because these podcasts set a gold standard for well-produced, entertaining, host-driven storytelling. These, in addition to John Oliver and Andy Zaltzman's long-running satire podcast "The Bugle," are as good a place as any to start; everything else … well, it's hard to parse without a road map.

With affordable audio software and mics, essentially anyone can create a podcast, but making them engrossing is another story. For every niche, there's a podcast (or seven) these days, but the quality varies as much as the topic. Some are simply too inside-baseball for general audiences. Others are a bit too rambling to fit into one's weekly schedule. Many sound terrible. So, where to start? Some of the best still originate on radio, but as these 24 podcasts reveal, not all podcasts need to be on the airwaves first to display a great concept and quality production. Alphabetized by category, this list spans a variety of topics and provides the one podcast to start with for each. Some turn thoroughly dry subjects (like finance and start-ups) into compelling entertainment. Others approach well-treaded topics in surprising ways. All are solid entry-points into your future podcast obsession.

Comic Books: "Rachel and Miles X-Plain the X-Men"
A lot of comic-book podcasts are geared toward the those who live and breathe all things superhero; finding a more broadly inclusive podcast on the subject can be difficult. "Rachel and Miles X-Plain the X-Men" is great because it appeals to both listeners who are already well-versed in the X-Men universe and those who've maybe only seen the movies. With 70-plus weekly episodes under its belt, there's surprisingly a lot to X-plain; with the hosts' quick banter and contagious passion for the topic, it feels like this podcast could go on for a quite a while and still not run out of X-Men-related topics.
 
Listen: The hosts' intro to their first podcast aptly justifies the need for deeper X-Men X-ploration.
Cooking: "America's Test Kitchen Radio"
You don't have to be a serious cook to find "America's Test Kitchen Radio" instructive. Produced by the folks from Cook's Illustrated, the podcast may come across at first as more informational than entertaining, but its various segments can be fun to hear for aspiring home chefs and I-even-burn-toast cooks alike. Expect listener calls, wine recommendations, taste tests, and overall coverage of food trends.

Listen: They discuss soul food with author Caroline Randall Williams, plus add in some listener advice and a recipe for the Cuban braised-beef dish ropa vieja.
Crime: "Criminal"
"Serial" had millions tune in for a full season dedicated to one deeply reported crime, with each episode focusing on a particular aspect or person involved; the approach demanded weekly dissection. For those who like true-crime stories, "Criminal" can provide the fix in between "Serial" seasons, but its format doesn't require as much time investment as Sarah Koenig's show. Delivered via 20-minute bites, each "Criminal" episode focuses on a single crime. Host/producer Phoebe Judge, alongside fellow producers Eric Mennel and Lauren Spohrer, often gets into criminals' minds with perspectives from perpetrators, law enforcement, and victims. It's a thrilling, satisfying listen every time.

Listen: A widow is approached by a male stranger on Facebook and forms a relationship, but the man isn't who he made himself out to be.* The story gets stranger as the producers delve deeper.
Design: "99% Invisible"
In this long-running podcast, creator Roman Mars explores all aspects of design, architecture, and, as its name implies, the things that are 99 percent invisible surrounding us. Most episodes run about 20 minutes and focus on a single topic, via great expert interviews and creative use of sound to immerse the listener. While design seems like a topic best discussed through photo and video, Mars's rich descriptions easily make the audio segments richly visual to the imagination.
Listen: "Episode 130: Holdout" discusses eminent domain with several examples, including the incredible story of Edith Macefield, whose holdout status forced a developer to build around her home.
Economy: "Planet Money"
There's a reason NPR's "Planet Money" is the one economy podcast that people actually rave about: zero jargon, actual stories. The twice-weekly podcast features interviews ranging from experts to everyday people, demonstrating how economic principles affect everyone. Whether it's explainers (like "China, China, China") or more personal stories, the down-to-earth style of "Planet Money" makes looming economic concerns approachable and fascinating.
Listen: "Episode 648: The Benefits of Bankruptcy" dissects the pros and cons of bankruptcy by tracing the story of a company that filed for Chapter 11.

Entrepreneurship: "StartUp"
It would seem like a podcast about starting a business would be dry, if not boring, but this one's dirty-laundry approach is anything but. Created and hosted by ex–"This American Life" and "Planet Money" producer Alex Blumberg, "StartUp" is meta in that it traces how Blumberg launched Gimlet Media, the podcast network that hosts "StartUp." Its uncensored, of-the-moment approach invites intimate moments — like Blumberg's conversations about finances with his wife and anxious middle-of-night recordings — that make the listener feel right there with him as he builds his company, struggles and all. By the second season of "StartUp," Blumberg is joined by co-host Lisa Chow and shifts the show's focus to a new company, matchmaking service Dating Ring.
Listen: "How Not to Pitch a Billionaire" is the show's first episode, but also its most interesting. Hearing Blumberg's bumbling pitch to big-time VC Chris Sacca is endearing, but also widely useful for anyone who has to pitch their ideas.

Explainers: "Stuff You Should Know"
Conceived by the folks at HowStuffWorks, "Stuff You Should Know" is a bit of a misnomer. It's not necessarily should-know information, but rather interesting tidbits that make decent party chatter later (and who doesn't need a little more of that?). The twice-weekly episodes cover wide-ranging topics, from the mundane to the weird, and hosts Josh Clark and Chuck Bryant have a banter-filled rapport through them all. The show's tone is light, but Clark and Bryant go deep with the research.
Listen: "How Online Dating Works" covers its origins to seemingly unrelated topics (goiters) and provides pros and cons, statistics, and more. It's funny and surprisingly insightful coming from two guys who themselves have never tried online dating.
Fear: "Here Be Monsters"
Conquering fears can be a scary proposition and may not sound like the stuff of must-hear podcasts, but "Here Be Monsters" is truly addictive. Part of KCRW's Independent Producer Project, this podcast presents meticulously crafted personal stories across dark, unspoken territory and wraps them in excellent production. The producers have a great sense of timing, using outside sounds and well-curated music to evoke oft-unsettling moods that draw the listener into the setting.
Listen: "Last Chance to Evacuate Earth" is a look at Heaven's Gate, including an interview with a man who defected from the notorious cult before their mass suicide.
Film: "The Flop House"
There are quite a few podcasts about bad movies, but "The Flop House" succeeds at being both funny as hell and informative to boot. Bonus points because the hosts here do a pretty good job of eventually explaining the plot, so it's not essential to have seen the movie beforehand. Granted, it's more a comedy podcast with a bad movie as a launching point, but "The Flop House" just works. Listening to hosts Dan McCoy and Elliott Kalan, both Daily Show alumni, and Stuart Wellington feels a bit like eavesdropping on three BFFs trying to make each other laugh-fart.

Listen: "Drive Hard" discusses the film starring John Cusack, which, naturally, devolves into goofy made-up Billy Joel lyrics.
Finance: "Money Girl's Quick and Dirty Tips for a Richer Life"
Personal finance is the opposite of sexy, but this weekly podcast's useful, bite-size, and easy-to-follow advice could likely lead to more money in your pocket. Host Laura Adams answers listeners' letters — spanning debt to investing — with direct advice in the form of numbered action steps. It's a quick listen, with episodes running only ten to 20 minutes long — because Lord knows a personal-finance podcast makes True Detective season two look like an entertaining alternative. Suze Orman but, you know, not annoying.

Listen: "A Blueprint to Prioritize Your Personal Finances" breaks down the steps to prioritizing debt, emergency funds, investments, and goals.
Food: "Doughboys"
Even for those who do their best to avoid chain restaurants, this newer, review-style podcast is entertaining for its amusing, comprehensive looks at the franchise eateries that define large swaths of America. Each episode features a guest and a simple premise: to trace the origins of an iconic chain, and review it based on service, consistency, and taste. In rating these well-known chains, hosts Mike Mitchell and Nick Wiger explore the ways in which popular restaurants can come to define certain parts of culture, or simply our own nostalgia.

Listen: Alongside food writer Farley Elliott, the guys discuss food trucks and explore Denny's, where they delve beyond its well-known breakfasts.

History: "BackStory"
The appeal of "BackStory" is that it unveils history with a current event as its springboard, giving well-treaded news a fresh perspective that's, well, old. The hosts often use historical audio clips to pull the listener in further, but it's a highly participatory podcast, with callers featured in episodes alongside historians and newsmakers. For those in a time crunch, each hour-long episode is also broken down into individual segments to download via SoundCloud.
Listen: To coincide with Jon Stewart's Daily Show departure, "BackStory" examined the role of satire throughout American history.

Hollywood: "Hollywood Handbook"
In "Hollywood Handbook," Hayes Davenport and Sean Clements are stereotypical "A-list 'It'-boy" actors/writers/directors, with the one small caveat being that they're not. Davenport and Clements are, in fact, two real television writers playing hilariously deadpan characters on a podcast that on the surface aims to help others break into showbiz, but in reality is effective satire of the fame game. Their characters spend time topping each other's braggadocio, while their IRL-insider perspective makes their improvised send-ups all too real; even their comedian guests, who are almost always a "close friend," have a hard time not cracking.
 
Listen: The guys give advice on social media, with help from their "close friend" B.J. Novak.
Human Nature: "Strangers"
Another podcast from KCRW's Independent Producer Project, "Strangers" highlights how encounters with strangers have the power to irrevocably change us, not to mention prove that we may not know ourselves as well as we think. This podcast's compelling storytelling oftentimes stirs poignant emotions, but also reveals hopeful, downright inspiring moments as well; its best episodes evoke the common threads running through the human condition.
Listen: "A Father's Story: Then and Now" revisits the first story featured on the podcast, the heartbreaking tale of Stephen Rochelle and his son Matthew, who stood trial for murder.
Medicine: "Sawbones: A Marital Tour of Misguided Medicine"
Delving into the surprisingly wacky background of medicine, Dr. Sydnee McElroy and husband Justin make the history of illness oddly fun. Whether they're discussing warts, Ebola, or syphilis, the McElroys inject typically icky subjects with a good dose of humor, alongside research, historical perspective, curious cures, and causes. All the while, the chemistry between them is evident. Definitely never thought I'd say that about a podcast that shows its lighter side by detailing the health benefits of enemas, juice cleanses, and aromatherapy.

Listen: "The Dancing Plague" amusingly discusses the many times in history where dancing presented itself as a medical condition.
Music: "Pitch"
This podcast doesn't approach music in a typical way, via reviews and artist interviews. Instead, "Pitch" explores how music affects us on a psychological level. With a narrative storytelling approach and solid production, producers Alex Kapelman, Whitney Jones, and Ellen Mayer tackle less-explored music-related topics, such as corporate placement with music and the notion of selling out, or how a trans man's vocals changed when he took testosterone. Each engaging episode is around 15 minutes long.
Listen: "No. 6: Bow Chicka Wow Wow" discusses the emotions evoked by music in porn, as well as the specific songwriting approaches used to set such a scene.

Mystery: "Mystery Show"
Former "This American Life" producer Starlee Kine lead this mystery-solving podcast. What's unique about her sleuthing is that it provides more than just the answers (don't worry, "Serial" fans, each of season one's episodes solve its mystery), but reveals a bit about our own mysterious ways of looking at the world. The quirky curiosities chosen are not grand international mysteries, but instead focus on the everyday kinds of puzzles we encounter, such as origins of found objects. The only rule with regard to story selection: The answer to the mystery at hand can't be found on Google. Listeners can pitch mysteries to the show, too.
Listen: Without giving too much away, "Belt Buckle" centers around an unusual belt buckle found by a kid who gives it to a friend who has since kept it for decades and now wants to return it to its original owner. The outcome is surprisingly moving.
News: "Hourly News Summary"
For those who don't have time to dive deep but do want to be up-to-date, NPR's "Hourly News Summary" delivers relevant news in just five minutes, one for every hour of the day. In its short runtime, this podcast delivers the facts in easy-to-digest snippets of original reporting.
Listen: Just start with the most recent hour — what's the point of old news?

Nonfiction Storytelling: "The Memory Palace"
Narrative nonfiction readers and history buffs alike may find a lot to love within "The Memory Palace." Nate DiMeo's knack for whimsical storytelling makes historical events both small and large intriguing via strong writing and well-curated mood music. He weaves the facts into a must-hear yarn with descriptive language that make his stories come to poetic, vivid relief all in a few minutes' time.
Listen: "Every Night Ever" tells the amazing flying-saucer/dead-alien story from 1953 in Lithia Springs, Georgia, which made national headlines.
Politics: "Decode D.C."
Some political podcasts get super analytical or too dependent on an intimate knowledge of D.C. power players, while many others lean staunchly red or blue. What the weekly "Decode D.C." podcast aims to do is cover policies and illuminate the culture of D.C. politics, and it succeeds by zeroing in on one current topic for each episode. With audio clips and conversational writing that fully explain complex issues in just 20 to 25 minutes, "Decode D.C." strikes that allusive balance of teaching you something new before you lose interest.
Listen: For its 100th episode, "Decode D.C." takes an in-depth look at America's prisons from several perspectives, including the Sentencing Project's Marc Mauer, Georgia governor Nathan Deal, and Sean Walker, a former prisoner who spent two decades in the system.
Science: "StarTalk Radio"
Neil deGrasse Tyson won a damn medal for getting the people pumped about science, so it's no surprise that his down-to-earth approach to teaching otherworldly topics translates beautifully to a podcast. Here, the Cosmos host adds pop-culture references and celebrity guests to his lessons on astronomy, physics, and well beyond. Recent topics include the intersection of art and science, GMOs, and God.

Listen: "Cosmic Queries: Super Powers" answers fan questions about super powers, contemplating the plausibility from a scientific perspective.
Sports: "Sklarbro Country"
Sports and non-sports fans alike might find common ground in "Sklarbro Country," in which twin brothers Randy and Jason Sklar meld sports talk with pop culture by featuring athletes, comedians, and actors as guests. The brothers provide plenty of context and humor within their timely riffs, somehow making it feel inclusive for those who don't check ESPN daily (or really even weekly). Meanwhile, there's enough savvy for sports lovers to enjoy the lively commentary on current debates.

Listen: This episode featuring Michael Rapaport is a good example of how well the hosts blend sports news and other topics for a more general audience.
Tech: "Reply All"
Some people just want the internet to work and don't think much beyond that, but "Reply All" has the ability to change even a technophobic perspective with its look at how the internet shapes us in surprising ways. Hosts PJ Vogt and Alex Goldman gather stories from all parts of the digital world (from tech innovations to social media), with reveals that are oftentimes unexpected and insightful. There's also an amusing segment called "Yes Yes No," in which the hosts try to discern a particular internet culture item.
Listen: "No. 37 Taking Power" is the story of Chris, a Comcast customer who seemingly gets harassed by one of its customer-service reps about a Twitter complaint, but what actually transpired is much more devious.
TV: "Extra Hot Great"
Of course you're already listening to "The Vulture TV podcast," but if you're looking for another TV podcast, "Extra Hot Great" may do it for you. Created by the folks behind Television Without Pity, this podcast features a strong rapport among Tara Ariano, Sarah D. Bunting, and David T. Cole, who lace their humorous commentary with screener sneak-peeks and recurring segments. The production could be cleaner, but "EHG" is still one of the better-sounding (and entertaining) offerings in the TV category we all know and love. 
Listen: "EHG 88: They Win Some, We Lose Some," which discusses the Emmys, the good and bad of new fall shows, and an ode to the possible final days of So You Think You Can Dance.
* In an earlier version of this story, we misidentified the widow in this episode of "Criminal" as a widower.