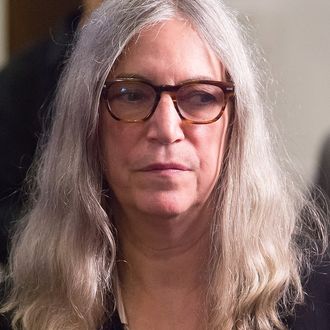 Patti Smith.
Photo: Michael Stewart/WireImages
After 35 years, Patti Smith has been reunited with some of her most cherished, memorable items. The rock goddess appeared at Dominican University on Sunday to talk about her new memoir, M Train, where she was stunned by a blast from her past. According to an online fan forum and confirmed by the Chicago Tribune, a 56-year-old fan named Noreen Bender surprised Smith with a bag full of clothes and accessories Smith hadn't seen in nearly four decades. Those items, though not authenticated by anyone other than Smith herself, were reportedly taken from Smith in 1979, when more than $40,000 worth of merchandise was stolen from her band's tour bus after a gig in Chicago. Included in that theft and now returned to her this week were the famous sheer blouse she wore on her 1978 Rolling Stone cover (seen below), the Keith Richards T-shirt she was often photographed wearing, and a cloth that belonged to her late brother, Todd Smith.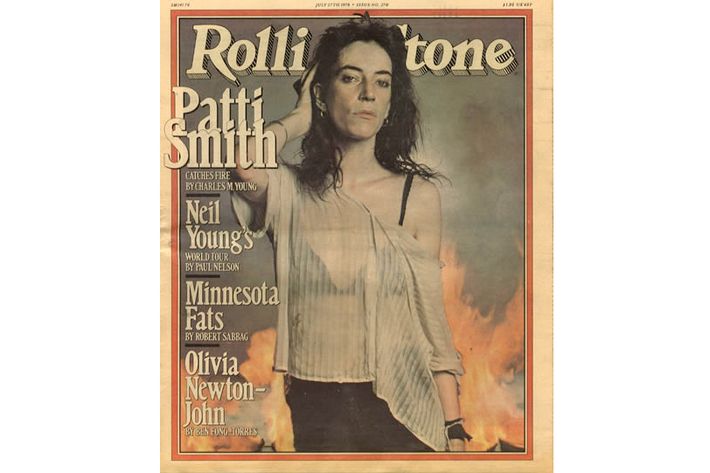 That last item reportedly reduced Smith to tears. "Before long, half the audience was crying with her … [Some] were asking where, how, why, but Patti just put her hands out and said she doesn't care how, she's just so grateful to have these priceless items back," a fan writes. "She couldn't stop touching them, eventually slowly slipping the bandana into her pocket … and proceeded to do a ripping version of 'Because the Night' with her son on acoustic guitar."
Bender tells the Tribune that she received the stolen items "decades ago through a male friend of her Chicago roommate at the time" who worked for U-Haul. "I just thought, Oh my god, these are her clothes and they still have her sweat on them," she says. After almost 40 years of trying to get them back to Smith, Bender says she finally found the right opportunity to surprise her "hero" on Sunday.