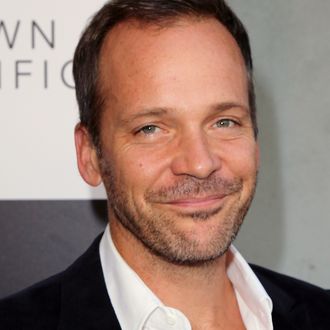 We'll see you for the first time.
Photo: David Livingston/Getty Images
Peter Sarsgaard is one of the new cast members joining Showtime's Twin Peaks, TV Line reports. At least Sarsgaard won't be alone in this regard: He joins Amanda Seyfried, Prison Break's Robert Knepper, and Brothers & Sisters' Balthazar Getty in new roles on the show. As expected, Showtime has been mysterious about the whole affair, and declined to confirm Sarsgaard's participation or what role he might play. Thus far, while many from the original cast are expected to return, the network has only officially confirmed the participation of its protagonist Kyle MacLachlan, who is reprising his role as Agent Dale Cooper. Co-creators David Lynch and Mark Frost are currently shooting Twin Peaks in Washington with an airdate for sometime in 2017, and we'll finally figure out what's going on in the Red Room. (Kidding! Probably not.)
Update: It appears the reports were premature. Talking to EW earlier today, Sarsgaard said, "I'm not doing Twin Peaks." Adding, "But it certainly was a rumor that was not founded on nothing." So it goes. You didn't need more reasons to be excited about the show, anyway.