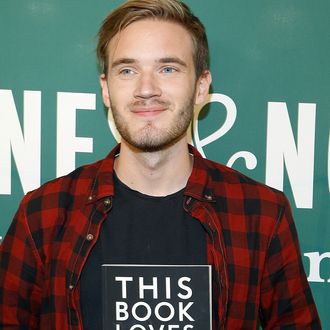 Photo: John Lamparski/Getty Images
YouTube's biggest star with over 40 million subscribers, PewDiePie, has some thoughts about YouTube Red, the video site's new subscription service, which will let users watch it ad-free. You're thinking: Who cares! I have AdBlock! In a Tumblr post, PewDiePie, whose real name is Felix Kjellberg says that he understands: Why pay to watch something without ads when you can do so for free? But, he says, this has larger consequences for smaller channels and YouTube overall. YouTube, despite having over a billion viewers, was just barely breaking even, The Wall Street Journal reported earlier this year. Kjellberg has noted from his own Google statistics that about 40 percent of users use an ad-blocker, which is revenue he's losing out on. "Personally, I'm ok with if you use adblock on my videos. Ads are annoying, I get it, I'm not here to complain about that," he writes. "But for smaller channels, this number can be devastating."
He then went on to enumerate a list of points about the consequences of what ad-blocking technology does:
YouTube Red exist largely as an effort to counter Adblock.
Using Adblock doesn't mean you're clever and above the system.
YouTube Red exists because using Adblock has actual consequences.
This, essentially, is why PewDiePie says he's on board with YouTube Red for the time being. To ad-block or not to ad-block! That is the question.