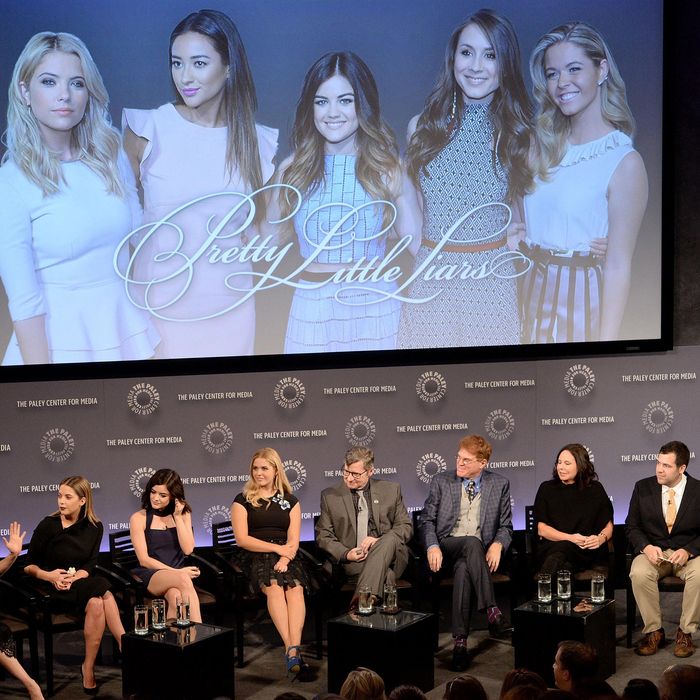 The Pretty Little Liars cast and crew at PaleyFest New York 2015.
Photo: Ben Gabbe/Getty Images
No, Pretty Little Liars fans, the series is not ending with the second half of season six. But while 6B has yet to premiere, season seven could be the show's last. And if that's the case, there is already a plan in motion. That tidbit and many others were teased at the Pretty Little Liars PaleyFest panel on Sunday evening. Stars Sasha Pieterse, Troian Bellisario, Ashley Benson, and Lucy Hale were on hand, along with creator I. Marlene King and producers Joseph Dougherty and Oliver Goldstick, to answer fan questions and steer conversation as far away from potential spoilers as possible.
"I think the fans will stay with us for so many more seasons, I really do," King said, getting nods of approval from many in the PaleyFest audience. "But I think, as a group, we'll make a decision on when it's time to end, and right now it's sounding like season seven. But there could be versions of the show that go on in a different form."
The Liars themselves have ideas for different Pretty Little Liars spinoffs, including one that follows Officer Toby and his many bumbling adventures with the Rosewood Police Department. And, of course, there's always the option of giving Hanna a spinoff, using Ashley Benson's ideas from New York Comic Con.
Whether season seven will be its last or not, King already has ideas on how the series will end — she even wants to appear as an extra in the finale.
"We know what the big reveal in that final episode will be and who it will be, and we'll just have fun figuring out the 'how' of getting there along the way," King explained.
But with the end of Pretty Little Liars still in the distant future, what can fans expect in terms of more pressing mysteries that still need solving? King explained that while season 6B does, in many ways, begin a new story line for the Liars, many of the plot holes from the season-6A finale will be explained in the coming ten episodes, including a murder reveal, mysteries like who killed Mrs. DiLaurentis, and the locations of characters like Jenna and possibly even Wren, whom many fans believed was a serious suspect for "A" before the big reveal.
"There is a little more to the Jason-CeCe dating story, so that's a tease," King explained, to a room full of uncomfortable shifting and groans. "No, but you haven't heard the complete story of that. You might not say 'gross' by the end of the story."
Fans can expect other, less creepy romances to take place when the show returns. King and the producers noted that there could be a few weddings in Rosewood after five years away, and, of course, there's always room for steamy love scenes, though the Liars find those difficult to shoot.
Which love scenes were the most awkward to film? "All of mine with Ian," Hale said loudly. "It's just that everything's so technical when you're doing love scenes. You're trying to make it look sexy, but it's not. It's about if your hair is flipping at the right moment or whatever … The magic of TV editing makes it look presentable, and I guess people like it."
Ashley Benson said she likes to fuel the fire when it comes to her own love scenes. "I like to make them more awkward," she said. "Tyler [Blackburn] and I get really inappropriate on purpose just to make everybody feel uncomfortable. I'm like, 'Well, I have to do this, so I'm going to make you uncomfortable first so we can laugh about it and move on."
Not a bad plan, if it produces more drama when Pretty Little Liars returns on January 12.