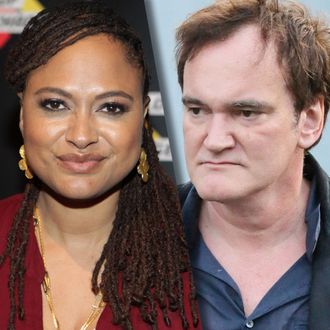 Fighting words!
Photo: Corbis
Quentin Tarantino and American Psycho author Bret Easton Ellis both have less-than-flattering opinions of Ava DuVernays' civil-rights film Selma. ''She did a really good job on Selma but Selma deserved an Emmy," Tarantino told Ellis in a T magazine profile. Ellis followed this up by extolling Tarantino's film, Django Unchained, as the superior picture: ''Django Unchained, with its depictions of antebellum-era institutionalized racism and Mandingo fights and black self-hatred, is a much more shocking and forward-thinking movie than Selma, and audiences turned it into the biggest hit of Tarantino's career. But it was also attacked for, among other things, being written and directed by a white man."

Back in 2012, not everyone shared Ellis's embrace of Django. Upon the film's release, a number of black writers and filmmakers took umbrage at his script's liberal use of the word nigger, as well as what they saw as Tarantino's diminishing of the experience of slavery. (To give just one example, Spike Lee stated he wouldn't watch the film and tweeted, "American slavery was not a Sergio Leone spaghetti Western. It was a Holocaust.") However, Tarantino doesn't think this criticism of the film should be linked to the fact that he's a white man:

When the black critics came out with savage think pieces about Django, I couldn't have cared less. If people don't like my movies, they don't like my movies, and if they don't get it, it doesn't matter. The bad taste that was left in my mouth had to do with this: It's been a long time since the subject of a writer's skin was mentioned as often as mine. You wouldn't think the color of a writer's skin should have any effect on the words themselves. In a lot of the more ugly pieces my motives were really brought to bear in the most negative way. It's like I'm some supervillain coming up with this stuff.
After people didn't respond too kindly to the above comments, Tarantino issued a clarification. In an email response to IndieWire, the director says he has never actually seen Selma, and that when he said it, he meant it "more like a question." He continues by saying he didn't mean it as a diss, and that he'd be happy for his work to be compared to a TV movie. Here's the full note:
I'm writing you to pass on that the quote from the NY Times piece about "Selma" is wrong. I never saw "Selma." If you look at the article, it was Bret who was talking about "Selma," not me. I did say the line "it deserved a Emmy," but when I said it, it was more like a question.

Which basically meant, "it's like a TV movie?" Which Bret and myself being from the same TV generation, was not only understood, but there was no slam intended. Both Bret and myself come from the seventies and eighties when there were a lot of historically based TV movies: the King mini-series written by Abby Mann staring Paul Winfield; Crisis at Central High with Joanne Woodward. And Judge Horton and the Scottsboro Boys. These were great TV movies. I'd be honored to be placed next to those films. However, I haven't seen it. Does it look like a seventies TV movie? Yes. Does it play like one, I don't know, I haven't seen it.