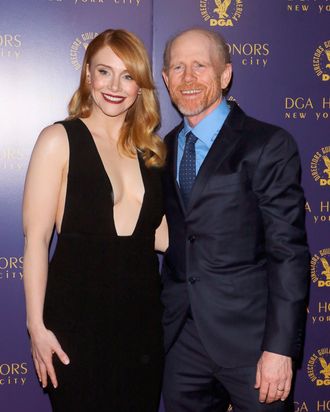 Daughter and father!
Photo: Jim Spellman/WireImage
Need a good end-of-the-workweek cry? Last night at the ninth DGA Honors Gala, the Directors Guild of America celebrated Tyler Perry, Senator Chuck Schumer, and Ron Howard. For Howard, his daughter  Jessica Chastain Bryce Dallas Howard first gave a speech introducing him. She talks about going to work with him on sets, including working as a 13-year-old PA on Apollo 13 only to feel aghast that her father didn't receive a Best Director nomination at the Academy Awards. Or in her words: Fuck. The speech is touching, funny, and warm and will make you wish you were a child actor turned director who had a movie-star daughter. Read the full speech below:
Alan [Cumming, the emcee], thank you so much for reminding me that my parents named me after where I was conceived. That's just awful. That's just the worst. I found out when I was 6 … and then all my friends found out, too. It was a dark time in my childhood. On to better things.

My dad is the most sensitive, patient, and inclusive father on planet Earth. I literally have no ammunition for a tell-all. Nothing. He included me in everything. Every day of my childhood felt like Bring Your Daughter to Work Day. Ever since I was 7 years old, I was given odd jobs on my dad's movie sets. Tiny things that made me feel like I was part of the filmmaking process without of course becoming too much of a liability considering I was a minor with far too many opinions for my own good. But the real fun was that I got to ride every day to and from set with my dad, and he would share the challenges and the wins of the day. He would think out loud as he scribbled the shot list on the back of an imagined buck slip. And best of all, I got to sit beside him as we watched dailies together. Every single day. My father was my hero, and he still is.

In the summer before eighth grade, my dad started production on Apollo 13 and I got a promotion: my first walkie-talkie. I was a 13-year-old PA. It was a very big deal. But since there are so many union representatives here tonight, I'm not going to brag about all of my responsibilities because it would suggest a definite child labor/union law-breaking situation. Let's just leave it at: I fell in love with movie-making that summer. The night Apollo 13 was released, I was now 14 and my parents and siblings all jammed ourselves into the family car. There are six of us total, all redheads. We drove from theater to theater to see how it was playing. When we started to realize there were lines out the door extending around the block, I got so choked up and giddy all at once. There is nothing like the rush of seeing an audience love a film that you know your dad has poured his heart and soul into. Which is why on the night before the Oscar nominations that year would be announced, I set out my best outfit, because I as well as critics and audiences expected my dad to be nominated for the first time in his career for Best Director. Well, the movie was nominated for nine Oscars, including Best Picture. My father was not. My how the emotional tides of a 14-year-old Bryce Dallas Howard can shift. I mean, Fuck. My dad, on the other hand, was taking it like a champ. After all, as a filmmaker he's always been kind of an underdog. Naturally, people were kind of skeptical. He was a TV child actor turned director, Opie, Richie Cunningham, kind of dorky, very earnest, from Oklahoma. Not the typical example of the edgy auteur filmmakers who earn instant cool cred in this business. I think for him he had a mature perspective on the whole thing, even though truly the omission stung. But me? I was super upset.

When I got to school that next morning, my head hung low, I was still wearing the beautiful floral wrap skirt I picked out the night before. I'm walking through the halls, everyone's looking at me kind of strangely, kind of mortified. I'm like, Wait, did they hear about the nominations, am I being pitied? What is that? Then I realized that in my prepubescent grief, I hadn't actually fully wrapped my wrap skirt and my legs and underwear were completely exposed. Just a fully open wrap skirt. So I'm this never-been-kissed, chubby freshman, my wrap skirt is flapping out of the back of my underwear like a cape — side note, Connor Flynn, secret crush, saw the whole thing. So maybe my dad not being nominated actually wasn't the worst thing about that day. Somehow I got through winter. Eventually in my mind I came to terms with it, learned to not put too much stock in those kinds of things. And life went on. And even though it never worked out with Connor Flynn, it probably never would've in the first place.

And then there was this amazing thing that happened: My dad got nominated for a DGA award, and even more amazing? The event was scheduled on my 15th birthday, so I was totally going. It was one of those cases when it truly was an honor just to be nominated, because statistically it was basically impossible for him to actually win this award. In 48 years, there was only one DGA award winner that was not nominated for the Oscar, and that was Steven Spielberg for The Color Purple. And let's be transparent here: Steven Spielberg is kind of the big kid in the playground. He's an outlier, so you can't really calculate into your statistical algorithm of whether or not you have a real chance of winning. But what's so special about the DGAs is that all of the nominees speak regardless of who wins; everyone gets a moment to be heard. So my dad, he waits for his turn and gives a truly heartfelt, very, very, very long speech to celebrate everybody who worked so hard and truly often achieved the impossible while making Apollo. And it was emotional for him, and he was so grateful, and I was so freaking proud of him. And then [starts crying] after the last speech of the nominees came to a finish, the award winner for Best Director was announced, and to our utter shock it was my dad. And I got to witness him so off-guard … he didn't even know what to say, because, frankly, he had said everything already. He never expected to win — none of us did. I know along with everyone else there, it was profound for him to receive that level of recognition from his peers.

So for me, March 2, 1996, was truly the most kick-ass night of my life. I want to sincerely thank the DGA for not only acknowledging my dad's name, but for giving me the best 15th-birthday present a girl could hope for.