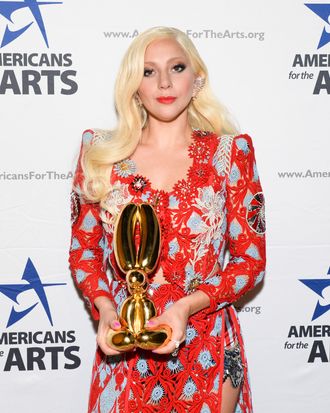 Lady Gaga's favorite statuette.
Photo: Joe Schildhorn/BFA.com/National Arts Awards
On Monday night, a tearful Lady Gaga received the Young Artist Award from the arts-education nonprofit Americans for the Arts at its annual gala at that cathedral of catering Cipriani 42nd Street. The award itself — a gleaming lapdog-scale Jeff Koons balloon dog — was presented to her by friend and art-mentor Klaus Biesenbach, curator-at-large for the Museum of Modern Art. He emphasized that she had done it all — millions of records sold, work on behalf of bullied youth, and not to mention a grisly turn in the current season of American Horror Story: Hotel — before the age of 30.
Lady Gaga seemed especially touched by the fact that this august group was taking her seriously as an artist. The night was the culmination of her journey to co-opt the power of Art and channel it through herself — something she's been doing long before teaming up with Jeff Koons (who was also at the event) to make the cover of her album Artpop. Gaga gave shout-outs to Koons, as well as performance artist Marina Abramovic, whom she called "the best rehab of [her] life." Gaga, who has six Grammys, said there wasn't "a single award that means more to me than this one." Her full speech appears below.
Thank you so so very much. It is hard to know exactly what to say, I have some small notes but they are not very well-written, and I don't know. Actually, I suppose every artist writes things down differently but what made mine pretty horrendous — I don't know how anyone I work with reads back what I write, and understands it, let alone myself. 

But I have to say, years and years ago, about five years ago, longer than [when] I met Klaus, and worked with Klaus, and I was doing my second collaboration with Terence Koh, and we were in the MoMA, and I went over to him and I said, Klaus, what did you think? And he said, It's not art yet. And I was like, Fuck. And I'd see him around when I would keep performing, and I would ask him to come, whether I was singing or I was doing some performance art with a friend of mine, and he'd continue to come over the years. And the collaborations became more and more frequent and I began to see him more and more, and one day he was like, Okay, I hear you. That's good.

So I think of Klaus as a curator but so much more. But that word, cure, and the word curator is the best way that I could define what art has done for me. It has totally cured me. And each and every moment in my life, I have grown. I have learned more, and I have become smarter or dumber, which happens also. While art can make you foolish and wild, it has always been a warm blanket for me to rely on, something I always knew would be there for me, the byproduct or the unicorn, the fantasy that arose out of whatever struggle I was experiencing or whatever torment. So I'm here today to say thank you so much to all of you for honoring me today, because I don't think there is a single award that means more to me than this one.

When I first began — it's very strange, people say, Are you going to be an artist? Are you going to be a singer? And I say, I am an artist, I am a singer. I say, I know I'm not famous and I make no money, but I am still and I suppose that I didn't know whatever I would become but I always wanted to be extremely brave, and I wanted to be a constant reminder to the universe of what passion looks like, what it sounds like, what it feels like.

I did a photo shoot yesterday that I curated, a project that I have been working on for some time and a wonderful friend of mine photographed these actors in live improv. We staged a house for the day, they each created a character, and we photographed them as they were acting in their most neurotic states — completely when they have left the Earth, and decided it was way fucking better. And the commitment that they all showed, and how inspired they were, reminded me why I am here. I am here tonight because not only have you accepted me, but you have accepted someone that is not Lady Gaga.

My name is Stefani Joanne Angelina Germanotta. I am an Italian-American. I was not born hot, like my mother would have you believe. I, over time, read so many books, watched so many movies, did so much art, met so many sculptors, filmmakers, poets, musicians, sidewalk artists that I invented something that was much stronger than I ever could had been on my own. And that is what, for me, is what I see between my fans and what I hope to achieve together. I ask you, please, to use me, use me, use me for your own art. Allow the world to come together, allow us all to share our creative processes together and not be isolated, but by talking about each other's work and lifting each other up. Art goes on forever to the future of the young people that look to all of you.

For example, Mr. Jeff Koons is my friend, when you make this sculpture of me, when you make this album cover, when you gave to me, and exchanged with me a gift that is so pure and so rare, you invited every young person around the world — that if they had nothing but a blank canvas, someday they could create something that the entire world could see. That is a gift that I want every young person to receive. That is what I hope to live on as my personal legacy, is that I spent every day being that, perhaps, obsessive and slightly aggressive girl in the corner that was banging on about art in a completely Pop form. But all I always wanted, more than anything, was to be taken seriously as a musician in the Pop cultural field, as well as the fine arts at the same time. And tonight is the closest that I might ever come to that.

But thank you so much, and a big thank you so much, and a big thank you to Tony for being my friend through everything, and for teaching me so much, and for sharing your greatness with all of us. Thank you, Jeff, for showing every kid in the world what it means to have a passion. And thank you to my family for my education. You sacrificed so much so that my sister and I could go to a good school, and tonight I get to honor a really interesting group of intellectuals that I always really wanted to know and create with, so thank you for giving me that, and thank you for also giving me religion so I could freak out. My manager Bobby, Klaus, Marina Abramovic, for being the best rehab I have ever had. You eat art or it will eat you. These people that remind me why I'm here. I'm so inspired every day, I'd rather be here any night of the week, than anywhere else in Hollywood. We're at Cipriani. This is real old New York, and thank you so much, I'm so sorry I talked so long. This is just the best thing that has ever happened to me. And a toast to a new age of romantics, and let's lift each other up and take care of kids as they struggle with depression and anxiety, while they ask themselves every day why do I feel so sick, and the answer is because you're meant to make things. So let's help them make things.