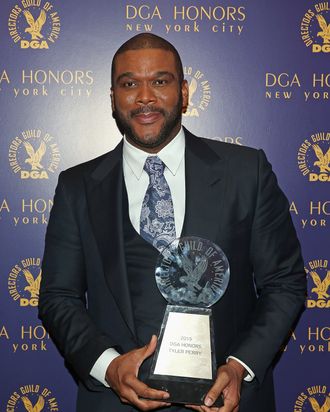 Photo: Jemal Countess/Getty Images
Tyler Perry gave one hell of a speech at the Directors Guild of America Honors on Thursday night. The writer, director, and actor first became famous for his Madea character in the play I Can Do Bad All by Myself, and then the film Diary of a Mad Black Woman (and its sequels), before going on to create a mini–media empire for himself. Alongside director Ron Howard and Senator Chuck Schumer, the DGA Honors fêted Perry for his contributions to television, film, and theater. In his speech, Perry talked about geeking out with Ben Affleck and David Fincher on the set of Gone Girl and, most importantly, about why he feels a disconnect from Hollywood. Read his whole acceptance speech below.
I am tremendously honored for this. I was at the White House not long ago, and I ran into J.J. Abrams and his wife, and she said, "Oh my God. The ghost is here." I said, "The ghost? What do you mean?" And she said, "You're the ghost. We never see you anywhere, you never show up for anything. You never do anything." And I told her, as I will explain to you, I'm always a little anxious in these kinds of situations because I always feel like I'm going to say the wrong thing, or not know someone that I should because I'm down in Atlanta. I'm not in Hollywood, and I've got my head down, and I'm focused on the work.

And as I was explaining that, I thought about something that happened right before that. I was on set with David Fincher and Ben Affleck — I know him, Ben Affleck. [Laughs.] We were on break, and they started talking about directing and Argo and Hitchcock and these different certain things, and lighting, and this new technology and lenses. They were geeking out like two little schoolgirls about all of this technology. I had no idea what they were talking about. They kept asking me, and I'm like, "Yeah. Yeah …" because I didn't come in that way. I didn't understand exactly what they were talking about.

After I left that moment, I went and studied every piece of film I could get of his trying to see what the hell he was talking about. Because he does this thing that I've never heard of — it's called nuance. [Audience laughs.] Listen, I approach everything with the subtlety of a sledgehammer in my films, and I'm proud of it. But as he's explaining all of this, and I'm looking for these moments and I'm trying to understand it, I started thinking about directors that I like. I started studying them, and I read up on them and their history and where they come from. There are these stories where one director's father gave him a camera, and when he was 5 years old he did his first movie. He was nurtured. Another director, his parents were producers; another director, they were around it all their lives.

That wasn't my story, and I said I know there's not a story for everyone in here. But just to have that I thought, look at my story. Growing up in New Orleans, going to my first movie at 5 years old at a theater called the Gallow where you really had to hold onto your popcorn or rats would take it right out of your hand. I saw The Wiz for the first time in that theater, and standing there, seeing black people — and this is a different day now — but then, in the early '70s, to see black people onscreen. I thought, Wow, this is something. I can be there. I can do that. I can make people feel like I feel now. I left there dancing and singing. [Sings] Ease on down the road.

I wanted to be Michael Jackson. I want to be cultivated. I want to be nourished, you know, by my parents. I'm coming around the corner and I'm dancing, and I hear, "If you don't get your ass off that street I'm gonna break your damn neck!" My mother, she was a poet. I quickly got out of the street. But, I went on to find myself years later having an opportunity to do what I love: tell stories that I love. To reach people and speak to them, to speak to people in my audience in a way that is very specific, a way that I understood and they understood. And they were coming and showing up by numbers that I couldn't even imagine. I was traveling, doing my live stage plays, and they were showing up in numbers that I couldn't imagine. And here I am, in these moments, and I get to Hollywood and I realize how different my experience has been.

I was just recently asked to do an interview about showrunners. And I kid you not — forgive me for this — I literally had to go and watch a documentary on showrunners to see what they do. Now, I have several television shows on the air and I know the term, but I had never had that experience. My experience has been different. I've never sat in a room with the studio and saying notes, or I've never had to do a director's cut and then give it to the studio. I've been very fortunate. And I found that out by watching what you guys have been through in this room. Man, I'm telling you, it's been very interesting. It's been such a learning experience for me.

So, that's what gives me the anxiety in the room. And [Abrams] was asking me these questions. "So what's it like to sit in the writers room?" And I'm like, "I don't have a writers room." I go away. Last year I wrote 94 scripts, and came back and I shot the 94 scripts. No writers room. I kid you not. And I don't say it for applause. I say it because there's difference in the way I do things, so these kinds of awards make me go, "Hmm."

But, what this says to me — Paris, Vince — what this says to me about the DGA is that diversity, and doing things differently, is okay. It's celebrated, so thank you. It's okay to be different. It's okay to be me and do it my way. And it's okay to be outside of Hollywood. I'm so proud of New York and all of the movies that are here. I want the same thing in Atlanta because there is so much production going on. I've got hundreds of union people working with me who I'm so proud of that are holding this up. I am so honored just to have this moment to say thank you for allowing my different to be special.