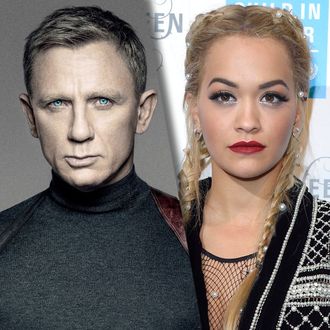 Rita Galore!
Photo: Metro-Goldwyn-Mayer Studios and Getty
You could say the world is not enough for Rita Ora, because the pop icon wants to dominate the James Bond franchise. When interviewed at the KISS Haunted House Party in London as to whether or not she'd prefer to sing a Bond theme or play a Bond girl, her response was, "I'd rather sing the theme but has anybody done both? Maybe. Maybe I'll do both!"
After garnering attention for only five seconds of screen time in Fifty Shades of Grey, could you even imagine what Ora could do for the Bond franchise? As a Bond girl, she's have a stunning name, like Rita Galore. Or Ritapussy. Or Honey Rita. And her theme? Her theme?
Rita Ora …

In James Bond …

This is Rita Ora …

In James Bond …

Yes, it's me!
Or something like that.