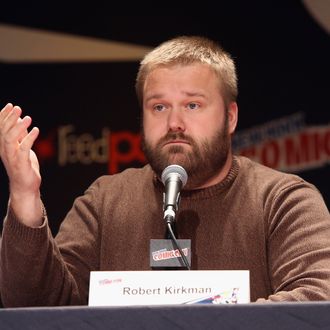 Robert Kirkman.
Photo: Robin Marchant/Getty Images
"I regret all of [the deaths] and none of them at the same time. It's harder with the show because the actors are involved and they're like good people — most of them," Robert Kirkman said to an at-capacity audience at New York Comic Con on Thursday. "Everyone but Norman [Reedus]." Kirkman was speaking with Nerdist's Dan Casey about the entire Walking Dead universe — the comics, the novels, the video game, and, of course, the show, which returns for its sixth season on Sunday. From the jump, Casey tried to get some juicy news out of Kirkman like, for instance, if we would see the big baddie Negan, leader of the Saviors, entering the show. "Are people excited about Negan?" Kirkman demurred. "I think it would be very cool if Negan were to be introduced into the show. I don't know when that would happen though." He paused and added, "I do, but I can't say."
That's how it went, with Kirkman batting away spoilers with jokes. The introduction of Negan could possibly presage the death of one beloved character, former pizza delivery boy Glenn (played by Steven Yeun), but the show has already established itself as a very different beast from the comics. Glenn has had a number of close calls, like when the cannibals at Terminus were going to slit his throat. "The fact that when you're watching that scene and you see them going down the line and you see them getting to Glenn, as an audience member, you're like, Oh my god this is totally going to happen," Kirkman said, in response to an audience question about Glenn's fate. "That's what we want. We want you to have that sense of danger. We want you to feel like anyone can go at any time."
Glenn fans can take solace in the divergence between Carol in the comics and Carol in the show. "The Carol that's in the comic was my attempt to show just how broken an individual can become from the zombie apocalypse," said Kirkman. "The Carol in the show, which is a much better character let's be honest, actually is made stronger by all the more horrible things that happen to her in the show. Killing her would definitely not … we can't do that. Does anybody want Carol to die on the show?" The audience cries out "No!" (while a few "yeses" registered).
Throughout the conversation, Kirkman playfully ragged on Norman Reedus (Daryl Dixon) — a character made up not only for the show, but for the actor himself. "I was in the room in the first season when we were developing Daryl as a character," said Kirkman. "Daryl's character was created for Norman Reedus because he auditioned for Merle and we liked him so much that we were like, Eh, let's create a new character for this guy. And so especially in the first season, he was very much like Merle. He was so much more of an antagonist. He wasn't necessarily a good part of the group. He was a troublemaker." Kirkman continued: "I would have to credit Norman Reedus a great deal for how his character developed just because it was the first time in the show, in real time, watching the actor read the lines the way they did, seeing the choices that they made inform what went into who that character was."
While death might be an inherent part of the DNA of the show, Kirkman wants you to know that if he kills a character off, it's not because he didn't consider it. "If I didn't have any regrets, if I didn't still wish that those characters were around, then I feel like I wouldn't have done my job."