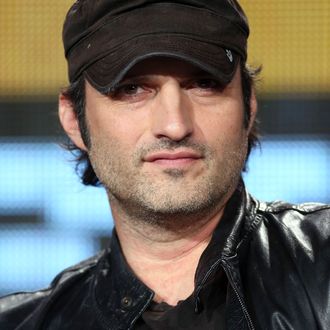 Robert Rodriguez.
Photo: Frederick M. Brown/2014 Getty Images
While you might not be familiar with From Dusk Till Dawn: The Series (the flagship show on the Robert Rodriguez–curated El Rey Network), it reaches 40 million households, so there's a chance it's in your channel guide. In addition to the show revisiting one of Rodriguez's most popular projects, which also established George Clooney as leading man material, the show's cast includes such favorites as Robert Patrick, Don Johnson, and Danny Trejo, as well as the unlikely Wilmer Valderrama as the show's main villain.
At New York Comic Con's Dusk Till Dawn panel Saturday night, a lot of parallels could be drawn when Robert Rodriguez told the stories of casting George Clooney in the DTD movie and Wilmer Valderrama in the show. Rodriguez said, "Sometimes I have casting ideas that are somewhat, a little out of the box, it's not really something you've really seen them do before, and when I brought it up at first people would say, 'What? The guy Fez from that ['70s Show]?' 'Yeah!'" Rodriguez didn't really have any relationship with Valderrama before the series, and didn't have a basis for the character past it being an expansion of Cheech Marin's "very small, underwritten" role of Carlos in the original film, but Rodriguez was confident Valderrama would be game. "Sometimes you just get a sense about somebody," he said, and "as soon as he showed up he's like, 'I'm wearing that? And I'm in that car? And I get to do all of this?' He realized he made the right choice and he'd have the most badass role probably in the series. … [Carlos] was going to keep trying to conquer, and he's always unpredictable, and Wilmer can bring that to it. He brings that sense of fun and unpredictability … he's been terrific."
When asked by an audience member about jump-starting Clooney's "ridiculously successful" career as a leading man with the DTD movie, Rodriguez shared a similar sentiment, explaining that he "gave him that role when nobody was offering him a movie role at all, changed Hollywood's perspective on him, and that was the whole point. Because he was a nice doctor on TV, nobody could see him in an edgier role, so I told him a plan, 'If I cast you as a killer, they'll know you can do a 180 from that and you'll get offered every role before this even comes out.'" The rest is history and Clooney was cast in films like Batman and Robin before From Dusk Till Dawn had even come out, which led to Rodriguez receiving a letter from the movie star that said, "Thanks for the shot." Only time will tell if Valderrama will be able to give Rodriguez the same courtesy.